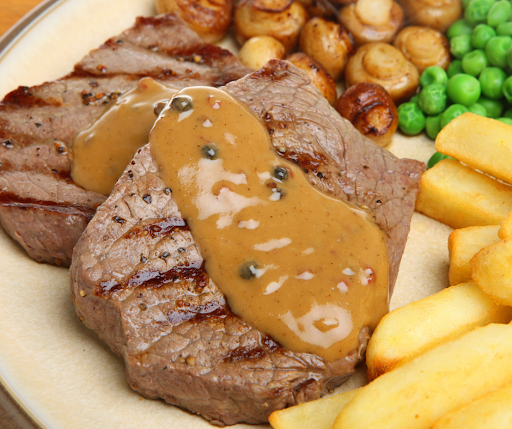 Tangy sun-dried tomato sauce elevates the flavor of Braveheart tenderloin to create this delicious dish. Consider making this dish for a dinner party, night in, or just for fun! It is jam-packed with mouth watering flavor that you will not want to miss out on!
Ingredients
¼ cup sundried tomatoes with oil

½ cup heavy cream

½ cup parmesan cheese

¼ frozen green peas

½ onion, finely chopped

2 cloves garlic, minced

3 slices bacon

Italian seasoning

Red pepper flakes

salt & pepper to taste

3 tbsp butter
Directions
Dice sun-dried tomatoes and bacon. Set aside

To a medium pan on medium high heat, Add oil from sundried tomatoes and 1 tbsp of butter.

Once the butter is melted, add chopped onions, sun-dried tomatoes, bacon, garlic, and frozen peas, and seasoning. Let cook until bacon and onions are cooked through.

Reduce heat to medium, and add heavy cream and let cook until sauce begins to thicken.

Add parmesan cheese and mix well. Remove from heat and set aside.

Season tenderloin filets with salt and pepper.

To a cast iron skillet on medium heat, add remaining butter. Once butter is melted, add steak and cook until desired doneness.

Remove steak and slice against the grain. Top with sun-dried tomato sauce and serve.
Looking for similar recipes? Try Braveheart Balsamic Steak Over Lemon Orzo Salad.