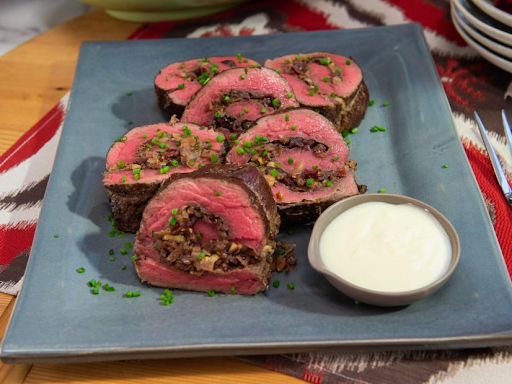 This stuffed beef tenderloin recipe is great for holidays or just a family dinner. With its elegant appearance and delicious flavor you will wow guests with your chef expertise. Braveheart's center-cut beef tenderloin makes for a great fit with this recipe as they are a class-act crowd pleaser.
Ingredients:
6 tablespoons butter

1 shallot, diced 

2/3 cup dry sherry wine 

1/4 cup dried dates, pitted and chopped 

1/4 cup dried cranberries 

1 teaspoon minced fresh thyme 

1 teaspoon minced fresh sage 

Kosher salt and freshly cracked black pepper 

One

Braveheart center-cut beef tenderloin

, trimmed and butterflied

1/3 cup Marcona almonds, crushed 

2 tablespoons minced chives 

Store-bought horseradish sauce, for serving
Directions: 
Preheat the oven to 225 degrees F.

Heat a medium skillet over medium heat. Melt 2 tablespoons of the butter, add the shallot and cook until translucent, about 5 minutes.

Add the sherry, dates, cranberries, thyme and sage and simmer until just dry, about 5 minutes.

Season with salt and pepper and set aside.

Season the inside of the tenderloin with salt and pepper.

Spread an even layer of the fruit and herb mixture over it, leaving about 1/2 inch of tenderloin around the edges.

Top with a layer of the almonds.

Roll tightly and tie with at least 4 pieces of butcher's twine (easier to cut and portion!).

Place the loin on a wire-racked baking sheet and season the outside with salt and pepper.

Cook until the center of the tenderloin registers 120 to 125 degrees F, about 2 hours.

In a large skillet, heat the remaining 4 tablespoons butter over medium heat until just foaming.

Place the loin in the skillet and sear on all sides until evenly crusty and brown, about 3 minutes a side.

Transfer to a cutting board and slice.

Garnish with minced chives and serve with horseradish sauce.
If you enjoyed this recipe try Bravehearts Lobster Stuffed Filet Recipe! This recipe is served over a parmesan reggiano latke, this lobster filet is stuffed inside a Braveheart Black Angus Beef and topped with brandy beurre blanc.