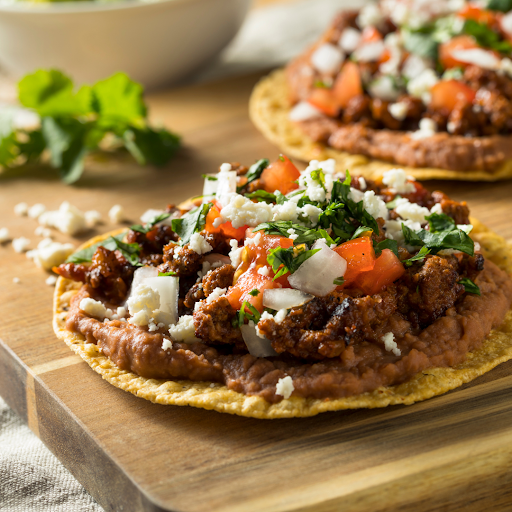 This recipe will have your family and friends satisfied and asking for the recipe. Fresh tomatoes, lettuce, and onions marry with the flavors of juicy steak to create this masterpiece. These steak and veggie tostadas are the perfect recipe to throw together last minute. Although it is simple, it is sure to impress!
Ingredients
Braveheart Top Sirloin Steak

½ red onion, thinly sliced

¾ cup red-wine vinegar

2 teaspoons taco seasoning

½ teaspoon salt

¼ cup nonfat plain Greek yogurt

1-2 teaspoons lime juice 

1 cup torn romaine lettuce

4 tortillas

½ cup canola or vegetable oil

1 cup cherry tomatoes, halved or quartered

¼ cup chopped fresh cilantro

1 small jalapeño pepper, thinly sliced

Lime wedges 
Directions
Preheat grill or pan to medium heat

Mix the vinegar and onion in a small bowl. Set aside.

Combine seasoning and salt in a small bowl. Rub steak with seasoning mixture.

Place the steak on the grill; cover and grill, turning once, until desired doneness. Transfer to a cutting board and cover loosely with foil; let stand for 10 minutes.

Combine yogurt and lime juice in a small bowl. Mix well.

Thinly slice the steak across the grain. Drain the onion; discard the vinegar, or reserve for another use. Divide lettuce among tostada shells. Top with the steak, tomatoes, the pickled onion, cilantro and jalapeño. Drizzle with the yogurt mixture. Serve with lime wedges.
Enjoy this recipe? Try out Braveheart Garlic Parmesan Steak and Potato Skewers.