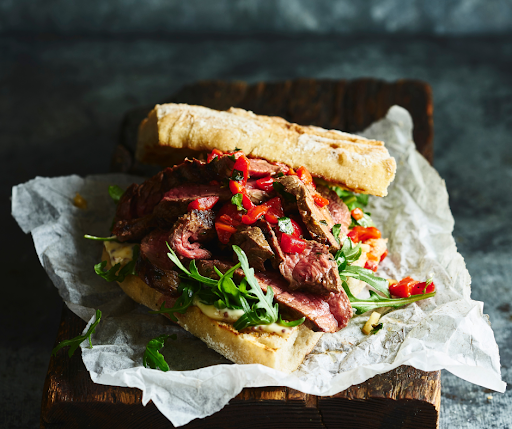 Want the perfect picnic meal? This sandwich is the perfect addition to your day. Creamy, homemade pesto pairs so well with coffee-rubbed sirloin steak to create this delicious dish that makes lunch time so fun. This sandwich is guaranteed to impress.
Ingredients
1 Braveheart New York Strip Sirloin Steak

2 tsp coffee powder

2 tsp light brown sugar

1 tsp chili powder

½ tsp paprika

2 cups fresh basil leaves

2 cups fresh raw corn

⅓ cup pine nuts

4 large garlic cloves

1 cup parmesan cheese

Salt and pepper to taste

2 ciabatta bread, sliced in half lengthwise.

½ cup arugula

½ cup roasted red peppers

2 tbsp butter, softened.
Directions
Preheat grill to medium-high heat

Combine the brown sugar, coffee, chili powder, paprika, salt and pepper in a small bowl. 

Pat the spice rub on both sides of each steak. 

Let the steaks sit at room temperature for 20 minutes. 

Grill until the steaks are nicely browned with deep grill marks, 5 to 6 minutes per side for medium rare.

Transfer the steaks to a serving platter to rest for 5 minutes before slicing.

To a food processor, add basil, corn, garlic, pine nuts, parmesan cheese, salt, and pepper.

Pulse ingredients until consistency is smooth and thick. 

Add to the bowl and set aside.

Add softened butter to the inside of the ciabatta bread and cook in a pan until the bread is golden brown and toasted.

Add pesto, arugula, roasted red peppers, and steak to the bread.

Top with remaining bread.

Serve and enjoy!
Enjoy this recipe? Try Braveheart Greek Steak with Couscous Salad. This recipe is the perfect summer dish and is so refreshing.