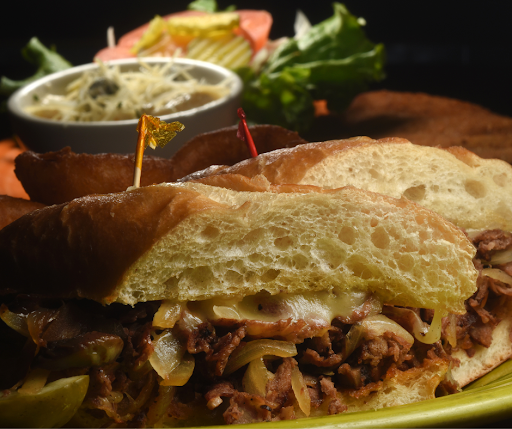 This steak sandwich with roasted red pepper garlic aioli is jam-packed with flavor. The steak is juicy and tender and pairs perfectly with the savory roasted red pepper aioli. The best part of this recipe is how simple it is. You can easily throw this dish together in less than an hour.
Ingredients
2 Braveheart New York Strip Steaks

2 tbsp packed brown sugar

2 tbsp balsamic vinegar

1 tbsp vegetable oil

1/2 tsp salt

1/8 tsp black pepper

3 tbsp butter

2 large onions , thinly sliced

4 hoagie rolls

1 cup arugula

8 slices Swiss cheese

¾ cup mayo 

6 cloves fresh garlic, minced

2 tbsp fresh lemon juice

½ cup chopped roasted red peppers

a few sprigs parsley

¼ tsp sea salt

pinch of black pepper
Directions
In a blender, add mayo, garlic, lemon juice, roasted red peppers, parsley, and a pinch of salt & pepper. Blend ingredients together until smooth and set aside.

To a large bowl or ziploc bag, add steak, brown sugar, balsamic vinegar, vegetable oil, salt, and pepper, and toss well.

Add butter and onions to a skillet on medium high heat. Stir often and cook until onions are caramelized (about 10-12 minutes). Remove onions from pan and set aside.

Increase heat to high and add steak. Make sure to let excess marinade drip off before adding to the pan.

Sear steak for 3-4 minutes on each side.

Once cooked, remove from the pan and let rest for 5 minutes, then slice against the grain thinly.

Butter hoagies and toast face down in a pan until golden brown. 

To the hoagie, add roasted red pepper garlic aioli, cheese, arugula, and top with steak and onions.

Let cool and enjoy.
Enjoy this recipe and want to try more? Check out Braveheart Chili Lime Burger with Mango Salsa.