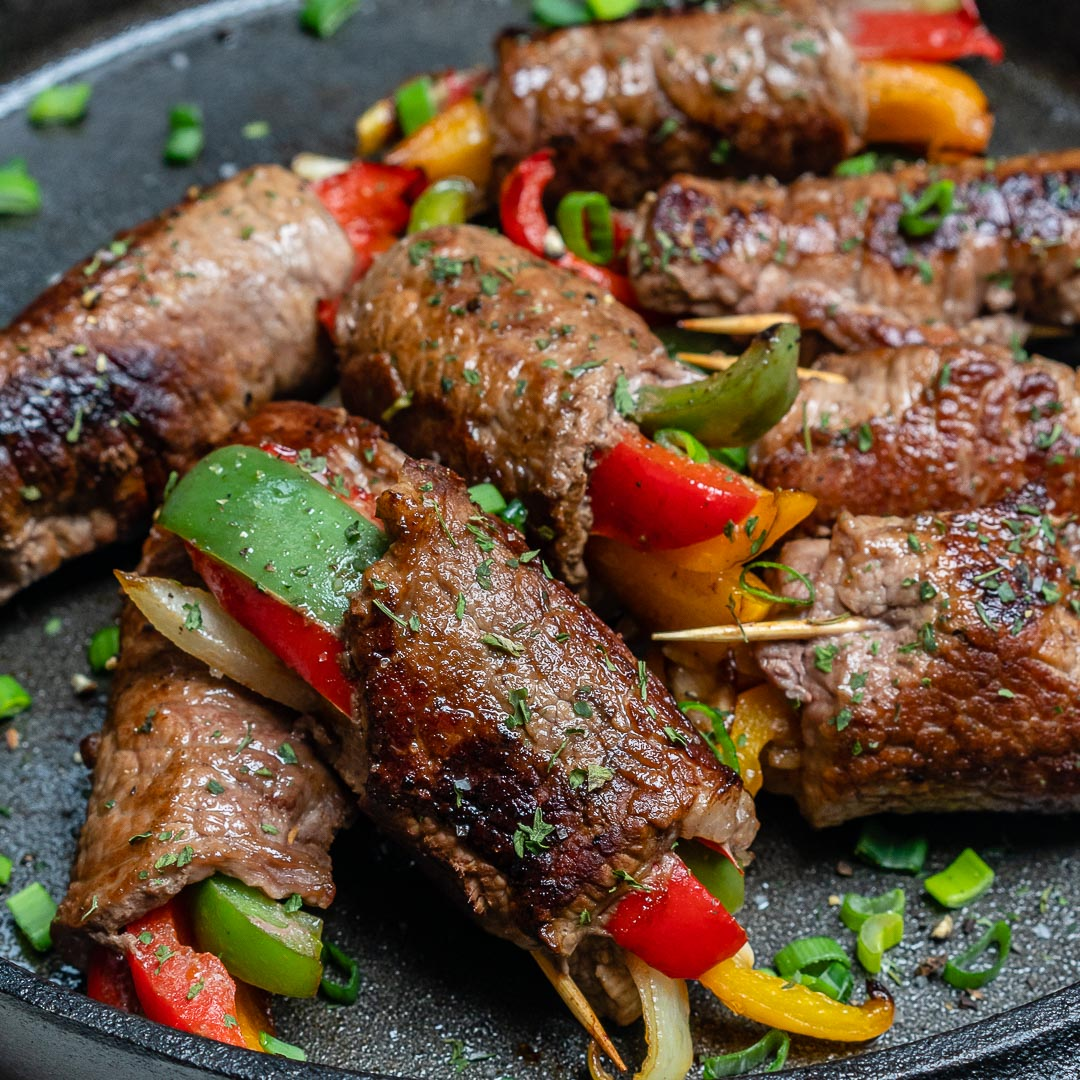 Bravehearts Steak Fajita roll-up recipe is not only delicious and fun to eat but the whole family will be impressed! Using Braveheart's top sirloin steaks this can be served as a light low-carb meal or served with some salsa, guacamole and brown rice for the perfect taco tuesday mashup! 
Ingredients:
1 lb. thinly sliced

Braveheart sirloin steak,

pounded to a very thin even thickness and then cut into 1"x3" strips

2 Tbsps avocado oil, or olive oil, divided

3 different colored large bell peppers, cut into thin strips as shown

1 large yellow onion, sliced into strips

2-3 green onions, green parts sliced

a small handful of fresh parsley or cilantro, chopped
Fajita seasoning mix:
1 tsp chili powder

1 tsp ground cumin

1 tsp garlic powder

1/2 tsp dried oregano

1/2 tsp smoked paprika

1/2 tsp sea salt

1/4 tsp ground black pepper
Instructions:
In a very small bowl whisk all fajita seasoning ingredients, then set aside.

Heat 1 Tablespoon of oil in a large skillet over medium-high heat.

Add in your onions, bell pepper strips, and season with just half of your homemade fajita seasoning mix.

Cook, stirring frequently until just crisp-tender, about 3-4 minutes.

Remove peppers and onions from the pan, and set on a plate.

To prepare the roll-ups, place the prepared steak strips on a large cutting board, and sprinkle them lightly with your remaining fajita seasoning

Add peppers and onion strips equally and nicely as shown to each piece of steak, then roll up and around, and insert a toothpick to secure the rolls as shown.

Heat the same large skillet over medium-high heat again, and add in remaining oil.

Carefully add into the skillet all of your steak roll-ups, and cook for about 2 minutes per side, until golden brown and cooked to your liking.

Remove from heat and sprinkle with fresh chopped parsley/cilantro and green onions.
Enjoy this twist on steak fajitas? Try Braveheart's Steak Bite taco recipe these handheld tacos have the perfect mix of savory and luscious flavor with a delightful combo of snow pea and jicama slaw and chipotle aioli adds crunch to go with a creamy spice.