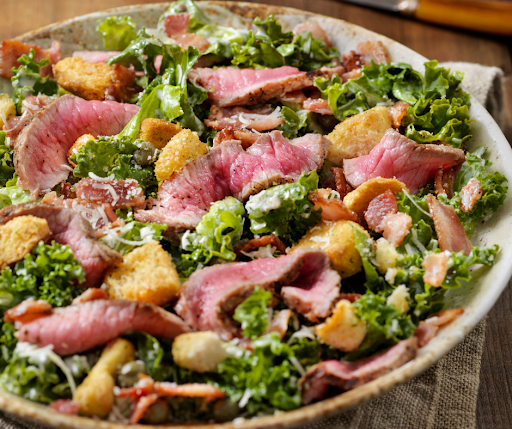 This recipe is perfect for the health-conscious chef. This Steak Caesar Salad combines the flavors of juicy, tender steak filets with creamy and cheesy caesar salad. It is a flavor-packed and light dish that will leave you craving more.
4 6 ounce Braveheart Center-Cut Tenderloin Filets, room temperature

1 1/2 teaspoons kosher salt

1 tsp  black pepper

2 tbsp butter

1 tbsp olive oil 

8 cups romaine lettuce, washed and cut to smaller pieces

1 cup croutons

⅓ cup parmesan cheese, shredded

1 clove garlic

1 tbsp fresh lemon juice

1 tbsp Worcestershire sauce

½ tbsp dijon mustard

10 small capers

1 egg room temperature

2 anchovy filets or 1 tsp anchovy paste

black pepper to taste

½ cup light olive oil or canola oil

¼ cup parmesan cheese grated
Instructions 
To a blender, add garlic, lemon juice, Worcestershire sauce, dijon mustard, capers, egg, anchovy filets, and pepper.

Blend ingredients until consistency is smooth. Change to low speed and drizzle olive oil in a thin slow stream (this should take a few minutes).

Add parmesan cheese and pulse to combine. Refrigerate until using.

Preheat oven to 400°.

Pat steaks dry. Season both sides very generously with salt and pepper. 

Over medium-high to high heat, heat a large cast-iron skillet. Add olive oil and butter. Add steaks and sear for 2-3 minutes per side. Spoon butter over steaks as they cook.

Insert an oven-safe thermometer and set an alarm for desired temperature (remember the temperature will rise about 3-5 degrees as the steaks rest). Put steaks in the oven and bake until they reach the desired temperature. This will take between 6-10 minutes depending on the thickness of the steaks and how hot you want them.

Remove from skillet and let rest for 10 minutes.

In a large salad bowl, combine lettuce, croutons and parmesan cheese. Add dressing and toss.

Top with steak and additional parmesan cheese and serve.
If you enjoyed this recipe, try out Braveheart Big Steak Salad. This dish is a hearty and tangy treat for salad lovers.