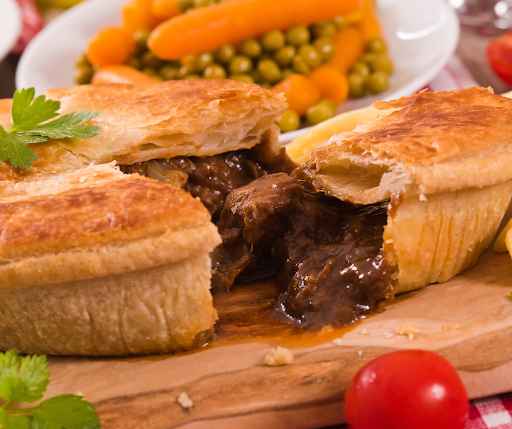 Wanting to try something new? Try out this steak and portobello mushroom pie. It is a hearty dish that will invigorate your taste buds. The flaky, buttery crust paired with the juicy beef will definitely have you coming back for seconds!
Ingredients
1 Braveheart Top Sirloin Steak, cubed

1 tbsp Olive Oil

3 shallots, finely diced

3 portobello mushrooms, finely chopped

2 Carrots, finely chopped

6 cloves of garlic, crushed

2 tbsp tomato paste

1 tbsp balsamic vinegar

1 tbsp flour

1 ¼ cup beef stock

1 ½ cup ale of choice

2 sprigs of rosemary

2 sprigs of thyme

2 bay leaves

1/2 tbsp butter or baking spray

2 packets puff pastry 

1 egg, beaten
Instructions
Preheat oven to 400F

To a pan, add the chopped shallots and olive oil. Cook until shallots are soft and golden

Add garlic, tomato paste, mushrooms, carrots and cubed beef to the pan. Mix well

Let mixture cook until beef is browned on the outside. ( beef will continue to cook in the oven)

Next, add the balsamic and beef stock to the pan. Let cook for 5 minutes then add the ale and let cook for an additional 5 minutes.

Combine flour with 1 tablespoon of cold water to create a paste. Add the flour mixture to the pie mixture.

Add herbs to the pan and move to a casserole dish. Put the lid on a casserole dish and place in the oven for 2 hrs.

Roll the puff pastry sheets and add to a greased pie pan. 

Gently push the pastry into the pie dish.

Once finished cooking, allow the pie filling to cool a little. Allowing any liquid that may be left to soak into the steak and mushrooms.

Spoon the filling mixture into the pie dish.

Beat the egg together and use around the pastry hanging on the rim of the pie dish. 

Top the pie with the other sheet of pastry and trim off excess. Score the top to allow ventilation.

Brush the folds with more egg and then place in the oven at 400° F for 40 mins.

Enjoy!
Enjoy this recipe? Check out Braveheart Steak Sandwich with Roasted Red Pepper Garlic Aioli.