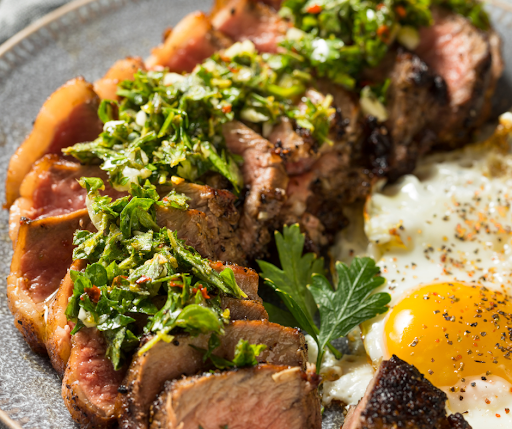 This recipe is so versatile it can be served for breakfast, lunch, or dinner! It is easy to make and produces the most intense of flavors. Pair with a side of toast and indulge in a protein-packed, flavorful meal.
Ingredients
2 Braveheart Boneless Ribeye Steaks

½ cup parsley leaves

½ cup chopped basil

2 tablespoons chives

1 shallot, diced

2 cloves garlic, minced

¼ teaspoon crushed red pepper flakes

⅓ cup extra virgin olive oil

1 tablespoon red wine vinegar

Kosher salt and freshly ground black pepper, to taste

1 tablespoon canola oil

6 fried eggs
Directions
Combine parsley, basil, chives, shallot, garlic and red pepper flakes in a small bowl. Add olive oil and vinegar and mix well. Season with salt and pepper to taste and set aside.

Pat both sides of steak dry and season with salt and pepper.

Heat a large cast iron skillet over medium high heat and add canola oil.

Place the steak in the skillet and cook until a dark crust has formed, about 4-5 minutes. Flip and cook for an additional 3-4 minutes, or until desired doneness. Let rest 5 minutes.

Fry eggs in a pan, sunny side up until egg whites are cooked through.

Thinly slice steak against the grain and serve with garlic herb sauce and eggs.
Looking for more recipe inspiration? Try Braveheart Steak and Egg Fried Rice Bowl.  It is a yummy twist on a classic recipe.