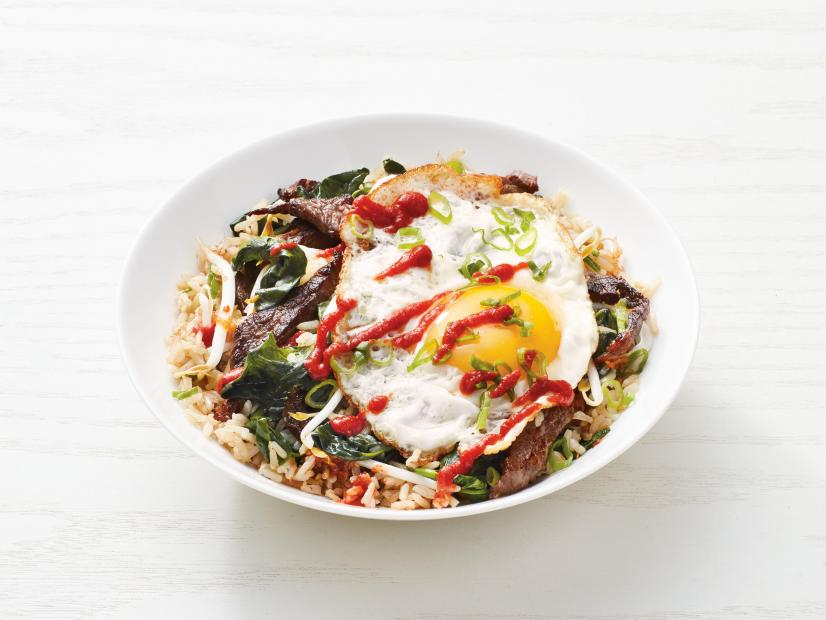 Looking for a breakfast packed with protein and decorated with flavor? Look no further, Braveheart's steak and egg fried rice bowl recipe is the perfect meal to start off your day. Combining the 5-star flavor of Braveheart's New York Strip Steak with a spice of sriracha mixed in with a runny egg yolk, you will think you're dining at your favorite resort. Start your day with a well balanced meal that is easy and fun to make.
Ingredients:
2 tablespoons low-sodium soy sauce

2 teaspoons sugar

4 scallions, thinly sliced (white and green parts separated)

2 cloves garlic, finely grated

1 teaspoon toasted sesame oil

12 ounces

Braveheart New York Strip steak

, thinly sliced

Kosher salt and freshly ground pepper

4 teaspoons vegetable oil

3 cups frozen brown rice, thawed

4 cups baby spinach

1 cup bean sprouts

4 large eggs

Sriracha, for topping
Instructions:
Combine the soy sauce, sugar, scallion whites, garlic and sesame oil in a large bowl; add the steak and let marinate for 10 minutes. Preheat a large nonstick skillet over high heat. Add the steak and marinade and season lightly with salt and pepper.

Cook, undisturbed, until the steak starts browning around the edges, about 3 minutes.

Stir and continue cooking until the steak is just cooked through, about 2 more minutes. Remove to a bowl.

Heat 2 teaspoons vegetable oil in the skillet. Add the rice, season with 1/2 teaspoon salt and cook, stirring occasionally, until slightly crisp, about 3 minutes.

Stir in the spinach until just wilted. Add the steak and any juices from the bowl; heat through.

Remove from the heat and stir in the bean sprouts; season with salt and pepper. Divide among bowls.

Wipe out the skillet, return to high heat and add the remaining 2 teaspoons vegetable oil. Crack in the eggs, season with salt and cook until the whites are set but the yolks are still runny, about 3 minutes. Top each rice bowl with an egg and the scallion greens. Drizzle with Sriracha.
If you enjoyed this recipe and are looking for more breakfast bowls to start your day, check out Braveheart's New York Strip Steak Bite Sunrise Southwest Bowl. This bowl is bursting with flavor that makes every bite one you will want to savor.