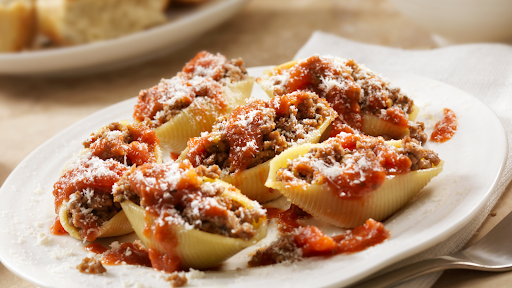 If you love a dish packed with quality beef and melted cheese then this is the recipe for you! These pasta shells are stuffed with spinach, beef, and a mixture of cheeses. Its rich flavor is sure to impress any guest.
Ingredients
1/2 lb Braveheart Black Angus Beef

1 box jumbo pasta shells

2 cups spinach

½  cup marinara sauce

½ cup alfredo sauce

1 cup mozzarella cheese, shredded

1 cup parmesan cheese, shredded

2 tsp tomato paste

1/2 cup onions, diced

2 tsp garlic, minced

1 tsp fresh basil

1 tsp garlic powder

1 tsp oregano

Salt and pepper to taste
Directions
Preheat the oven to 400 degrees and cook pasta shells according to the package. 

Heat a large skillet to medium high heat. To the skillet, add the ground beef and cook for 2-3 minutes. Add chopped onions, garlic, basil, oregano, tomato paste and salt + pepper to taste. Simmer for 2 minutes then add the spinach and simmer for 2 more minutes.

Once cooked, stuff shells with meat mixture and line them in a casserole dish. Mix marinara sauce with alfredo sauce and pour over the top. Sprinkle mozzarella cheese and parmesan cheese and cook for 15 minutes at 400°F.

Let cool and enjoy!
Looking for similar recipes? Try out Braveheart's Beef Tenderloin Medallions Over Penne With Walnut Cream Sauce.