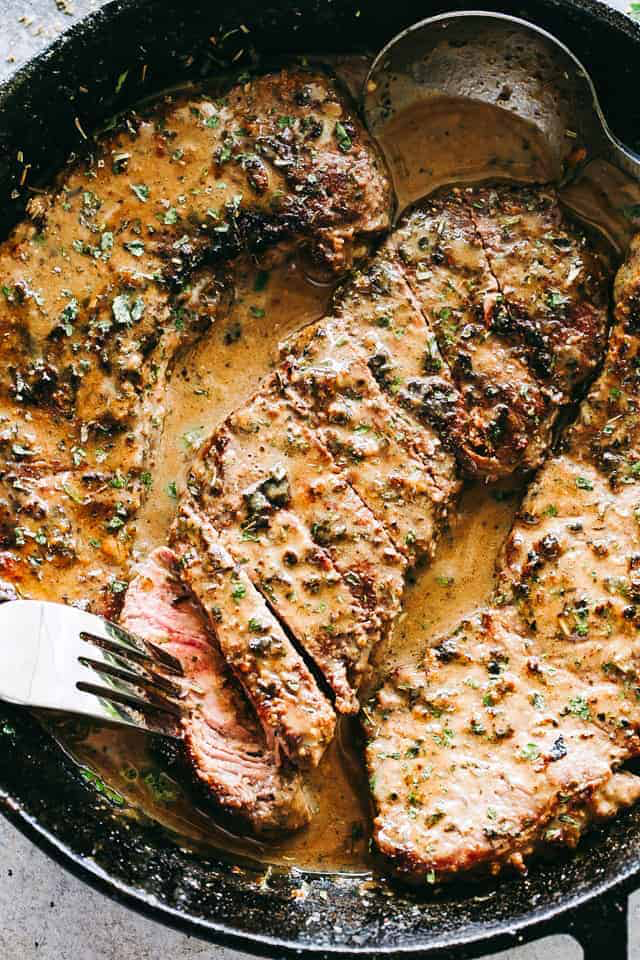 This recipe is the perfect steak dinner for any occasion. Bravehearts Top Sirloin steaks make for the perfect meat for this dish, with its tender, beautifully marbled texture this cut is known for its flavorful taste and pairs well with marinades and bold seasonings. The steak is tender, a little tangy, and the sweet flavor of bourbon helps make this flavorful sauce a perfect partner for a juicy sirloin steak. With this recipe your friends and family will think they are dining in a 5 star Michelin restaurant.
Ingredients
4 of Bravehearts

top sirloin steaks

, about 1-inch thick, at room temperature

coarse salt and fresh ground pepper, to taste

2 tablespoons dijon mustard divided

2 tablespoons butter divided

1/3 cup bourbon

1/4 cup low sodium soy sauce

1 teaspoon low sodium Worcestershire sauce

1/4 cup packed light brown sugar

1/2 teaspoon dried basil

1/2 teaspoon dried rosemary

2/3 cup half and half you can also use evaporated milk or light heavy cream

dried parsley for garnish
Directions
The Steaks
Prepare steaks by seasoning with salt and pepper; set aside for 20 minutes.

Rub steaks with dijon mustard.

Heat a large cast-iron skillet over medium-high heat.

Transfer steaks to a heated skillet, two steaks at a time, and add 1 tablespoon butter.

Cook steaks until browned and cooked to desired doneness, about 3 to 4 minutes per each side for medium-rare.

Remove steaks from skillet and set aside.

Repeat with the remaining steaks.
The Bourbon Sauce
In a small mixing bowl combine bourbon, soy sauce, Worcestershire sauce, light brown sugar, basil, and rosemary; whisk to combine.

Add the bourbon sauce mixture to the hot skillet and cook over medium heat for about 2 minutes, or until slightly reduced.

Stir in half & half or light cream and cook for a minute or two, or until thickened.

Remove from heat and lace steaks back in skillet; turn to coat.

Garnish with dried parsley.

Serve.
Looking for more recipes to add to your menu? Taco Tuesday is a fan favorite among many and Braveheart has the perfect steak bite tacos to impress your guests with a delightful combo of snow pea and jicama slaw and chipotle aioli. Using Bravehearts top sirloin steaks you will take tacos to the next level, the perfect handheld treats loaded with steak bite flavor.