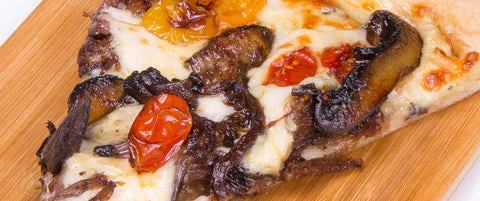 Elevate your pizza experience with Braveheart's black angus beef short ribs. Pair it with this delicious homemade vodka cream sauce, and we know this recipe will be a new at-home chef favorite.
Ingredients
6 oz Bacio® Cheese Shredded, Whole Milk
5 oz Braveheart® Black Angus Beef Short Ribs, Boneless, cooked
3 oz mushroom(s), portobello
3 oz Roma® Red Peppers, Roasted
1 shell Ultimo!® Pizza Dough, 12-ounce
4 oz vodka sauce, (see recipe below)
Directions
Heat grill to 400 degrees.
Keep dough at cooler temperature.
Place pizza stone on char broiler to heat. Top dough with sauce, cheese, mushrooms, peppers and finish it with the short ribs. Place topped pizza on pizza stone. Place on char broiler, cover with dome. Cook until the cheese is slightly brown and crust is crispy. Let stand for 3 minutes, cut and serve.
Vodka Cream Sauce
Ingredients
1/4 chipotle base, lb
1 box corn starch
3 qt Nature's Best Dairy® Cream, Heavy
1 bunch Peak Fresh Produce® Onion(s), Green, chopped
1 lb Peak Fresh Produce® Shallot(s), chopped
Piancone® Oil, Olive
1 cup vodka
Directions
In a stock pot add, heavy cream & chipotle base, heat on low.
In a sauté pan, add chopped shallots and green onions, sauté in olive oil.
Add sauté pan of veggies to stock pot and bring to a slow boil. Add vodka and simmer for 5 minutes.
Thicken with a slurry and set aside for entrée.