All steaks are cut to order and individually vacuumed sealed to ensure freshness for our customers. The following morning they are packed with ice packs for transport. Orders received by 11:59 PM CST will be processed the following business day and shipped via FedEx Priority Overnight. Orders placed after Wednesday at 11:59 PM CST will be processed the following Monday. All orders over $180.00 and shipped to one location qualify for free shipping in accordance with the schedule below. If you are interested in Saturday delivery, a fee of $15.00 can be added, and please contact us directly. We do not ship over the weekend. Holidays, or shipments to locations outside the Continental United States may also affect the date and cost of delivery or shipping.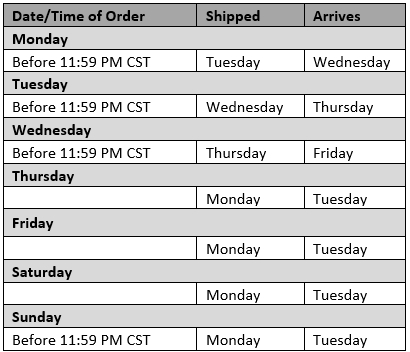 GUARANTEED STATEMENT
To ensure that your package arrives in excellent condition, each individual steak will be vacuum-sealed for freshness. Please alert the recipient that a perishable package is being shipped to them. FedEx does not hold your order. Therefore, all products are delivered to the shipping address regardless if someone is there or not. We ask that you verify the completed address prior to placing the order. No signature will be required at the time of delivery. Please call 1-800-ask–USPS to verify the current zip code. Braveheart Foods is not responsible for incorrect or bad addresses. Please also let us know if FedEx requires any special instruction for deliveries to recipients in Lofts or Apartment Buildings. Please note that we cannot deliver to PO boxes, A.P.O or F.P.O. If the recipient is on vacation, we ask that you verify the recipient's expected return date prior to shipment. The purchaser assumes the liability for unclaimed packages. Braveheart Foods is not responsible for spoilage if recipient is not notified of the delivery or if delivered to a bad address.
RETURNS
No returns – these shipments are very perishable. Reimbursement are made ONLY for product damaged during shipment. Contact Braveheart Foods within 24 hours of receiving damaged product.
SATISFACTION GUARANTEED:
If you are not completely satisfied with your order, please contact our office within 24 hours.
SPECIAL OCCASIONS/EVENTS OR CORPORATE GIFTING:
If your order is for a special event (i.e. business meeting, birthday, company party, incentives, promotional, etc) or involves multiple shipments, please contact us directly to fullfill your order.  We will make every effort to fill your order by the date requested or suggest alternative products or shipping methods.