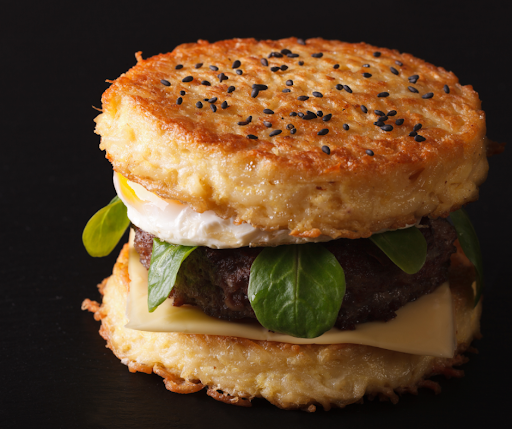 Looking for a recipe to spice things up? Then this recipe is the perfect dish to try! This Spicy Miso Ramen Burger is a delicious and surprising dish. It has a perfect crunch from the crispy ramen bun and a dash of spice from the spicy miso sauce. It is easy to assemble and will leave you thoroughly satisfied.
Ingredients
2 package ramen noodles

4 eggs

Salt and pepper, to taste

2 tbsp canola oil

2 tbsp scallions, finely chopped

1 tsp sesame oil

1 tsp sesame seeds

1 tbsp Sriracha

1 tbsp miso paste

1 tbsp mayo

2 tbsp Kimchi

2 slices cheese of choice
Directions
Add ramen noodles to a small pan of boiling water and let cook for 1 minute. Remove noodles from the pan and set aside.

In a small bowl, whisk together 1 egg and add noodles to the bowl. Mix well until noodles are evenly coated with egg.

Divide noodle and egg mixture into four small ramekins or small, circular bowls.

Add a piece of parchment or wax paper to the top of the ramekins and weigh down with a semi-heavy object. Place ramekins with weights in the fridge and let chill for 15 minutes or more.

Meanwhile, add burger meat to a bowl and season with salt, pepper, ground ginger, and scallions. Mix well to combine and then divide meat mixture into two patties. Set aside.

To a blender, add sesame oil, miso paste, sriracha, sesame seeds, 1 tbsp hot water, and mayo. Blend until ingredients are well combined and mixture is a smooth consistency. Place in the fridge until ready to serve.

To a large pan on medium high heat, add canola oil.

Once oil is heated, add burger patties and cook until desired doneness. Remove burgers from the pan and set aside.

To the same pan, add ramen patties and cook until both sides are golden brown. Remove from the pan.

Fry remaining eggs in the pan.

Assemble the burgers by adding a layer of sauce to a ramen pattie, then the burger, cheese, egg, kimchi, and an additional layer of sauce. Top with remaining ramen patty and serve.

Looking for more recipe inspiration? Check out Braveheart Beef Dumplings with Spicy Chili Sauce.