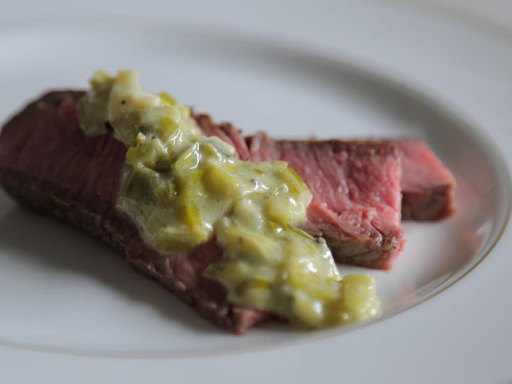 This Porterhouse steak recipe is one that will become a go to for your family dinners. Braveheart's "king of the T-bones" porterhouse steak offers the rich flavor of a strip steak on one side, and the delicate bite of filet on the other. The creamy leek sauce in this recipe adds exceptional flavor to the porterhouse steak.
Ingredients:
Kosher salt and freshly ground black pepper

2 tablespoons butter 

2 tablespoons olive oil 

2 leeks, dark green parts discarded, white and light green parts halved lengthwise and soaked in cold water to remove grit, diced

2 cloves garlic, minced 

1/2 cup chicken broth 

1/4 cup heavy cream 

6 tablespoons canola oil
Directions: 
Generously sprinkle the steaks with salt and fresh ground black pepper 1 hour before cooking and hold in the refrigerator.

Heat the butter and olive oil in a large saute pan over medium heat.

Add the leeks and saute until soft, 3 minutes.

Add the garlic and saute for another 2 minutes.

Reduce the heat, add the chicken broth and season with salt and pepper.

Continue to cook until the leeks are tender and the liquid is mostly absorbed, 6 to 8 minutes.

Stir in the heavy cream and continue to cook for 3 to 4 minutes.

Preheat the oven to 325 degrees F.

Heat 2 heavy-bottomed or cast-iron skillets over high heat. Add 3 tablespoons of the canola oil to each skillet.

Place a steak in each pan and sear 2 to 3 minutes per side.

Transfer the skillets to the oven and cook until an internal thermometer inserted into the steaks reads 130 degrees F, 6 to 8 minutes.

Rest the meat for 10 minutes. Slice the steaks and serve with the leek sauce.
If you enjoyed this recipe try Braveheart's Braveheart Tournedos! This recipe provides a combination of rich flavors from the parmesan cheese, hollandaise sauce, and mouthwatering crabmeat all on top of our mouthwatering Braveheart steaks.