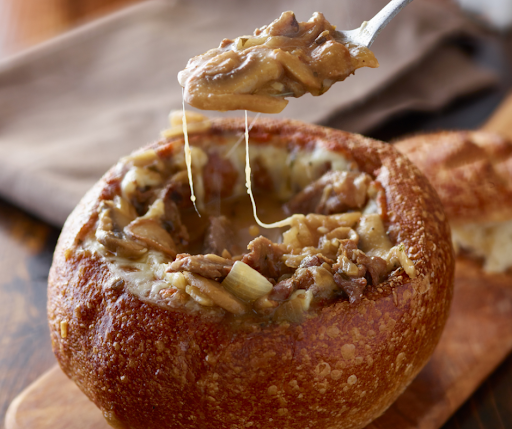 This dish is sure to warm you up on a cold day. There is nothing more fun than a bowl made of bread (except a bread bowl filled with cheese steak). Try this dish out and experience creamy philly cheese steak with crispy, golden sourdough bread. This dish is unique and sure to leave you wanting more.
Ingredients
2 Braveheart New York Strip Steak, thinly sliced

¼ tsp onion powder

4 tbsp all purpose flour

Olive oil

2 onions, thinly sliced

1 package mushrooms, thinly sliced

½ tsp thyme

2 cloves garlic, minced or pressed.

4 cups of beef stock

4 sourdough bread bowls, hollowed out.

4 slices provolone cheese
Directions
Add beef to a large bowl and season with salt, pepper, and onion powder. 

Add 2 tbsp of flour and toss until steak is evenly coated. Heat a pan over medium-high heat, and add oil. 

Once oil is heated, add steak and cook until all sides are brown and seared. Remove from the pan and set aside.

Heat more oil in the pan and add onions. 

Cook onions until they begin to caramelize (about 6 minutes) then add mushrooms and cook for an additional 6 minutes.

Add thyme and the garlic and mix well. 

Cook until garlic is aromatic and add remaining flour. Stir well.

Slowly add the beef broth while stirring the mixture to avoid any clumps.

Reduce the heat, and let the mixture simmer uncovered for about 10 minutes.

Turn off the heat and add the steak. 

Add stew mixture to hollowed bread bowls and top with a slice of provolone cheese.

 Place bread bowls on a lined baking sheet and put in the oven until cheese is melted and the bread bowl begins to brown.

Let cool and enjoy!
In need of more recipe inspiration? Try Braveheart Philly Cheese Steak Egg Rolls!