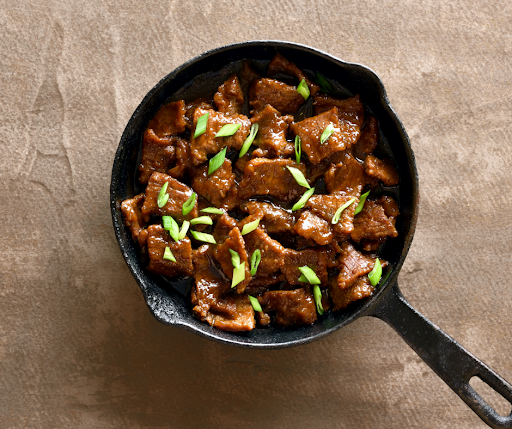 This dish is packed with flavor and protein. It is an easy dish that will trick anyone into thinking you are a professional chef. Nothing beats the flavor created for tender steak and sweet and spicy sauce. This dish can be served over rice or veggies (or any ingredient of your choice) to create a well balanced and yummy meal.
Ingredients
2 BraveheartNew York Strip Steaks, thinly sliced

3 tbsp cornstarch

2 tbsp vegetable oil

3 cloves garlic, minced

1 tbsp ginger, minced

⅓ cup soy sauce

⅓ cup water

½ cup brown sugar

2 green onions, thinly sliced

1 tsp toasted sesame seeds

salt and pepper to taste
Directions
Lightly season steak with salt and pepper. Add to a bowl with cornstarch and toss well until steak is lightly coated.

To a large skillet over medium-high heat, add 1 tbsp oil. Add garlic and ginger and cook for 1 minute. 

Add soy sauce, water and sugar and bring to a boil until sugar dissolves.

Pour sauce into a bowl and set aside.

Place the skillet back over heat and add remaining oil. 

Add steak and cook until evenly browned on both sides.

Add the sauce and combine well. Simmer and allow sauce to thicken, 1 to 2 minutes.

Toss in green onion and continue to cook for 1 more minute until the sauce is thick enough to coat the back of a wooden spoon.

Serve over steamed rice and enjoy!
Looking for more recipe inspiration? Try Braveheart Stuffed Beef Tenderloin.