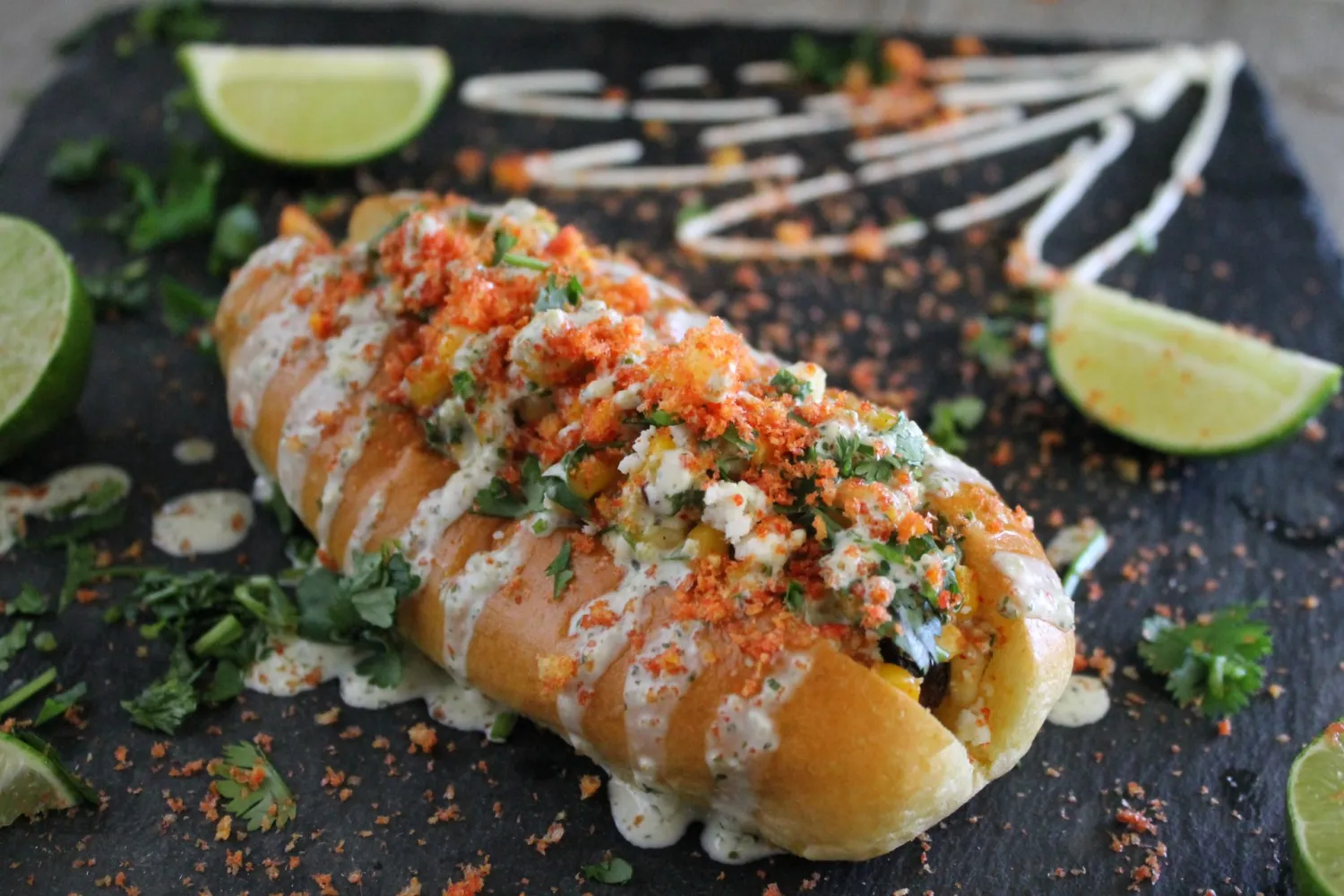 As summer is just around the corner, the cravings for a classic hot dog are on the rise. But why not add a twist to the mundane summer delicacy? Introducing the Mexican Street Corn Hot dog, this recipe provides a twist creating a tasty, refreshing sensation delivered right to your taste buds. With the spice of jalapeno aioli and the fresh taste of corn, your pallet will be taken to the next level. Using Bravehearts Ridgecrest franks dogs you will be brought with summertime nostalgia, without all the questionable ingredients. Mix it up this summer by bringing the best dogs to your cookout.
Ingredients
4 Brioche Hot Dog Buns

4

Ridgecrest Franks

hot dogs

4 Corn on the Cob

3 Tablespoons of Mayo

3 Tablespoons of Lime Juice

2 Tablespoons of Tajin Chili Lime Seasoning

5 Oz of Cotija Cheese

Small bag of Hot Cheetos

½ cup Cilantro

2 Large Jalapeños

1 bunch of cilantro

Cup and a half of lime juice

Tablespoon of minced garlic

½ cup of olive oil

2 ½ cups of mayo

1 cup of water

Salt & pepper to taste
Directions
Aioli
Take the Jalapeños and heat your grill up to high and roast your Jalapeños until they are charred.

Take the Jalapeños off the grill and put inside the bowl, let cool.

After cooling, put on plastic gloves (or the jalapeño juice will burn your skin) and take off the stems, peel the skin off and take out the seeds by hand. (The easy way to peel the skin and take out the seeds is to run it under hot water.)

Take ALL the aioli ingredients except for the mayo and place in a blender. Blend until it becomes a liquid.

Take the mayo and place in a separate bowl. Fold in Jalapeño puree to make aioli.

Place in a squirt bottle and refrigerate for 10 minutes. If you do not have a squirt bottle, you can get a zip lock bag and cut a small hole in the corner.
Mexican Street Corn
Take the corn on the cobs and soak in an ice bath for 15 minutes. Take out the ice bath and turn your grill to high. Grill corn for 10 minutes on each side or until brown. (All grills are different so temperatures and time may vary.)

Once corn is finished. Take corn, place in a bowl and let cool. Once cooled, cut corn off the cob and place in a large bowl.

Add all ingredients in a bowl with corn and fold until mixed thoroughly which becomes your Mexican Street Corn.

Grill Hot Dogs and place in buns. Top them off with the Mexican Street Corn. Drizzle the Hot Dog with the Aioli sauce to your liking.

Top off the Hot Dog with a sprinkle of cotija cheese, cilantro and dust with crushed hot Cheetos.