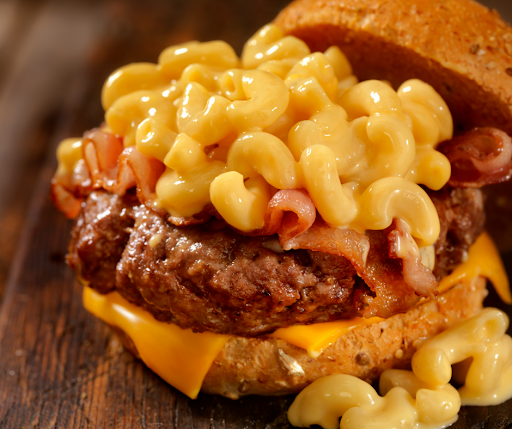 Life is too short to eat a boring burger. This recipe is the epitome of comfort food and will have your taste buds begging for more. Creamy, cheesy macaroni and cheese sits atop a juicy, tender Braveheart Black Angus burger. This is a delicious and flavor-filled recipe that will impress any crowd.
Ingredients
Boxed macaroni and cheese

6 slices of bacon

4 slices cheddar cheese

2 sesame seed buns

2 tbsp butter, softened

salt and pepper, to taste
Directions
Cook macaroni and cheese according to package instructions. Set aside.

Preheat a medium pan over medium-high heat. 

Lightly season both sides of the burger with salt and pepper

Add burgers to the grill and cook until both sides are brown and inside is well done.

Once burgers are cooked, add bacon to the pan and let cook until crispy.

Spread a thin layer of softened butter onto the inside of the buns and toast in a pan until golden brown. 

To the buns, add cheddar cheese, bacon, burger patty, macaroni and cheese, and top with a bun.

Serve and enjoy!

Enjoy this recipe? Try Braveheart Steak and Mushroom Pie.