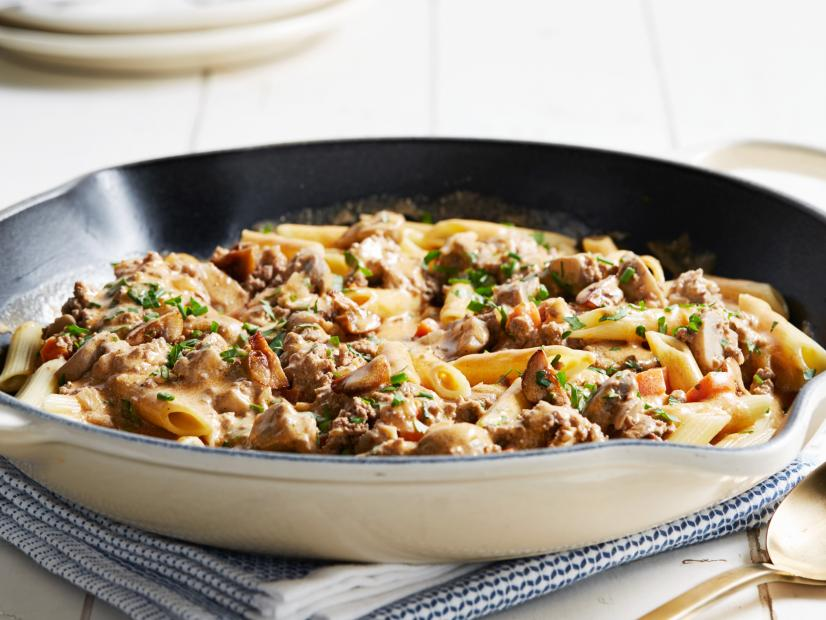 Spice up Braveheart's Black Angus beef by giving your guests something to rave about. This ground beef stroganoff recipe gives ground beef the stroganoff treatment by combining it with sauteed mushrooms and rich cream. Cook pasta right in the sauce for an easy one-pan dinner. It will be a clean plate club all around the dining room table!
Ingredients:
1 pound Braveheart's

Black Angus Beef Burger meat 

Kosher salt and freshly ground black pepper

One 10-ounce package white mushrooms, halved or quartered if large

1 tablespoon extra-virgin olive oil

1/2 teaspoon paprika

3 cloves garlic, finely chopped

1 carrot, cut into 1/4-inch dice

1 small onion, chopped

1 tablespoon tomato paste

One 15-ounce can low-sodium beef broth

1 tablespoon Worcestershire sauce

2 cups dried penne pasta

2 ounces cream cheese, at room temperature

1/4 cup sour cream

3 tablespoons chopped fresh chives

3 tablespoons chopped fresh parsley leaves
Directions:
Heat a large nonstick skillet over medium-high heat.

Add the beef, season with salt and pepper and cook, breaking the beef into small pieces with a wooden spoon, until well browned, about 5 minutes.

Transfer to a medium bowl, leaving behind any drippings, and reduce the heat to medium.

To the same skillet, add the mushrooms, season with salt and cook until golden brown, 8 to 10 minutes.

Transfer the cooked mushrooms to the bowl with the beef.

Add the oil, paprika, garlic, carrot and onion to the skillet and cook until the carrots are soft and the onion is lightly browned, about 10 minutes.

Stir in the tomato paste and cook until the tomato paste has toasted and is evenly coating the vegetables, 2 to 3 minutes.

Add the broth, Worcestershire and 1 1/2 cups of water to the skillet. Bring to a simmer and stir in the pasta.

Cover and cook according to package directions until just al dente.

Uncover, stir in the reserved beef and mushrooms and cook until heated through.

Remove from the heat and stir in the cream cheese, sour cream, chives and parsley until the cream cheese melts and the sauce is creamy.

Season with salt and pepper. Serve warm.
If you enjoyed this recipe try out our Barnyard Braveheart Burger! This recipe has all the fixings, whether you like to keep it plain and simple or dress it up-either way you will not be going hungry. Satisfied and full is the promise of this recipe!