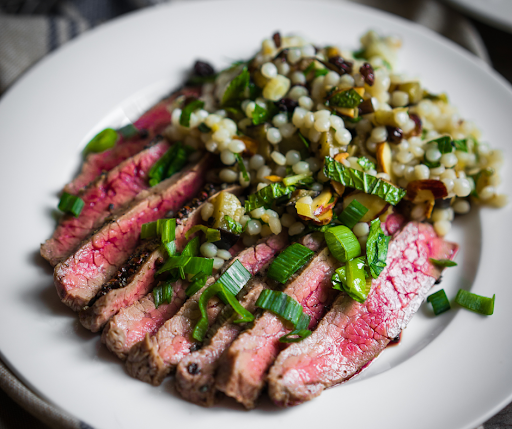 This is the perfect summer dish. For hotter summer days, this recipe can help you refresh! Cold couscous salad will cool you down while juicy, greek marinated steak will invigorate your taste buds. Try this recipe for a flavor-packed experience!
Ingredients
Braveheart New York Strip Steak

10 oz couscous

2 cups vegetable broth

2 tbsp white wine vinegar

2 tbsp lemon juice

3 tbsp olive oil

12 mint leaves sliced thin

1/2 cucumber, diced

3 tomatoes, diced

3 oz feta cheese
For the marinade:
½ cup olive oil

5 cloves garlic - minced

2 lemons - juiced

1 lemon - zested

1 tablespoon fresh thyme - chopped

1 tablespoon fresh oregano - chopped

2 teaspoon fresh rosemary - chopped

1 tablespoon fresh parsley - chopped

1 teaspoon salt

1 teaspoon freshly ground black pepper
Directions
In a medium sized bowl, combine ½ cup olive oil, garlic, lemon juice, lemon zest, thyme,oregano, rosemary, parsley, salt, and pepper, and mix well. Place steak in mixture and marinade for 1-8 hours.

To a medium pan, add broth and bring to boil. Stir in couscous and cover, remove from heat, and let stand for 5 minutes. Remove lid, fluff with a fork, and allow to cool.

Meanwhile, whisk together vinegar, lemon juice, and olive oil. Stir in mint, cucumber, tomatoes, and cooked couscous. Stir to combine. Add feta and stir gently to evenly distribute the cheese. Set aside in the fridge until ready to serve.

Remove steak from marinade and place on a grill over medium-high heat. Let steak cook until desired doneness. Remove from the grill and let rest for 10 minutes. Thinly slice and serve atop couscous salad.
Enjoy this recipe? Try out Braveheart Steak and Veggie Tostada.