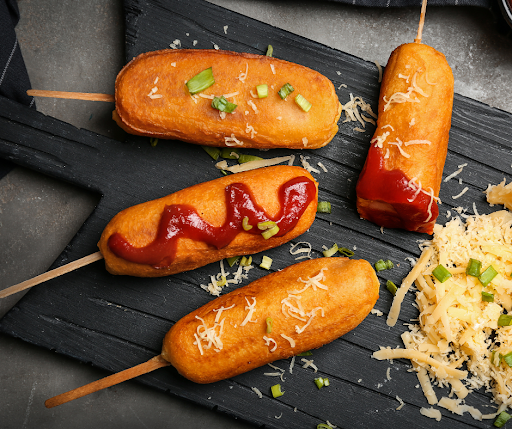 This classic handheld treat is so easy to make and very satisfying. The crispy exterior perfectly pairs with the tender Ridgecrest franks on the inside. You can top these with whatever toppings you wish and serve at a barbeque, party, or just make for fun!
Ingredients
3 cups store bought pancake mix

1 cup yellow corn meal

1 egg

2 cups water

Canola oil

Toppings of choice
Directions
Preheat the grill to medium-high heat and cook franks until both sides are browned.

Insert skewer about halfway through the franks and set aside.

To a large mixing bowl, combine pancake mix and cornmeal. Mix well. 

Add egg to the bowl and mix until well combined.

Next, slowly add water until the batter is thick enough to stick to the franks. 

To a large pan, add enough oil to fully cover franks and heat until oil is 375F.

Dip skewered franks into the batter, spinning them to ensure they are fully coated. Let excess drip off and slowly lower frank skewers into hot oil.

Let franks cook in oil until the outside is golden brown on both sides. Carefully remove and let cool.

Serve corn dogs with toppings of choice and enjoy!
Looking for more recipe inspiration? Try out Braveheart Cheesy Bacon Pigs in a Blanket.