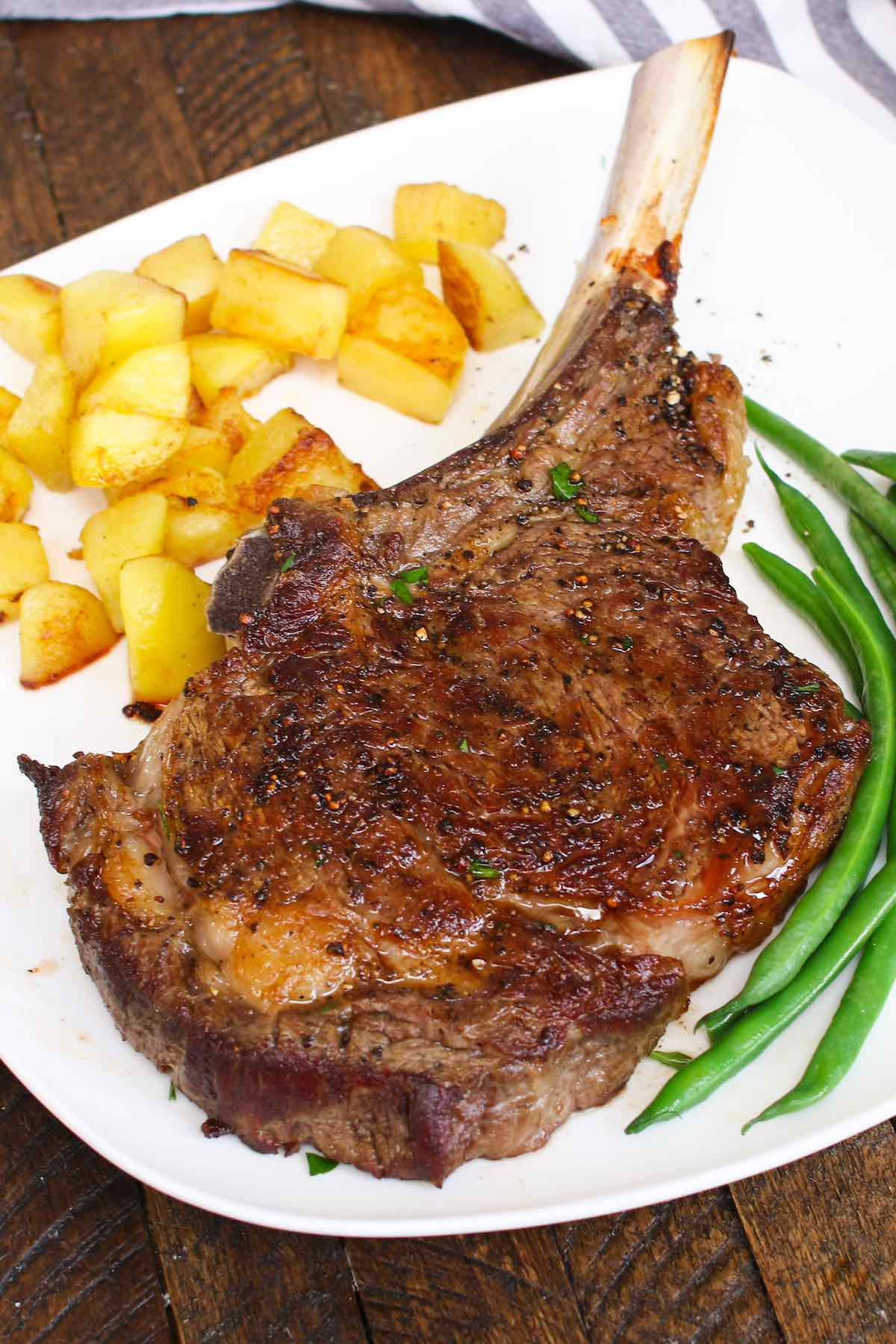 Braveheart's Cowboy Ribeye Steak is an extra-thick ribeye with a French-trimmed bone for a stunning presentation. This mouthwatering cut is exceptionally tender and juicy. This recipe tops the tenderness and flavor scales with an impressive look. Best of all, it's versatile and easy to prepare in the oven as well as on the grill or stove-top. This recipe pairs well with a carb such as baked or mashed potatoes and rice, vegetables such as broccoli or green beans, and sauces like garlic butter or a steak sauce.
Ingredients:
2

Braveheart cowboy steaks

, 1½-2½ inches thick (18-36 oz each)

2 tablespoons oil, canola oil or refined olive oil, divided

2-3 teaspoons coarse salt, or kosher salt

2-3 teaspoons black pepper, freshly ground

1 tablespoon unsalted butter, optional
Instructions:
Remove the cowboy steaks from the refrigerator 1-2 hours so they can approach room temperature for even cooking.

Preheat the oven to 400°F (204°C).

Place a cast iron pan over high heat for 5 minutes to get very hot while you get the steaks ready.

Pat dry the steaks with paper towels to remove excess moisture that could interfere with searing.

Rub the steak with 1 tablespoon of oil on all sides. Then season with salt and pepper.

Add the remaining 1 tablespoon oil to the hot pan and using swirl to coat. Note: the pan handle will be hot, so use oven mitts to avoid burns.

Using kitchen tongs, carefully place the seasoned cowboy steak into the pan. Sear for 1 minute. Flip and sear the other side for 1 minute more.

Transfer the pan to the preheated oven and cook for 10-15 minutes more or until desired doneness is reached. Halfway through, add the butter and spoon the pan juices on top of the meat to baste.

Check doneness by inserting an instant-read thermometer into the middle of a steak: 120°F is rare, 125°F is medium-rare, 130°F is medium and 135°F is medium-well.

Remove the steaks from the oven to a carving board or serving platter. Cover with foil and let them rest for 5-10 minutes so the juices can redistribute throughout the meat.

Cut along the bone to separate the meat from the bone. Then slice crosswise against the grain to serve.