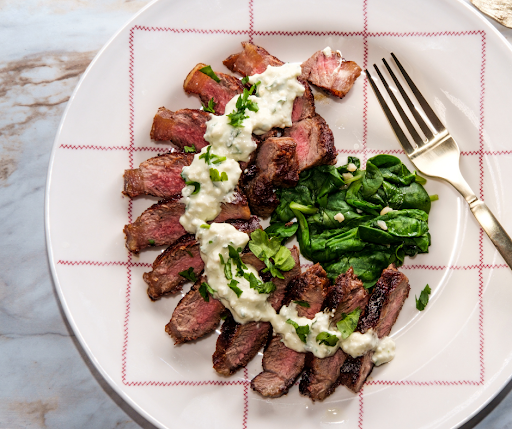 Looking for a classy recipe to spice up your dinner party? Look no further. This porterhouse steak is so juicy and tastes impeccable with the addition of creamy lemon sauce. This recipe is easy to throw together and requires few ingredients. Your guests will be begging for the recipe after the first bite.
Ingredients
1 tablespoon butter, room temperature

Kosher salt and freshly ground black pepper, to taste
For the sauce
2 tablespoons unsalted butter

⅓ cup parmesan cheese

1 cup of heavy cream

¼ cup white wine

Grated peel of 1 lemon

Juice of 1 lemon

Salt and Pepper to taste
Directions:
In a large pan, melt butter over medium heat and add minced garlic, salt, pepper, and lemon juice. Cook for 3-5 minutes or until everything is combined. (be careful not to burn garlic)

Add white wine to the pan and cook for 3-5 minutes.

Next, add heavy cream and lemon zest. Cook mixture until thickened.

Add parmesan cheese and mix until the cheese is melted.

Preheat oven to 425F. Place a Cast Iron Square Grill Pan in the oven.

Using paper towels, pat both sides of the steak dry. 

Season with salt and pepper, to taste. Remove skillet from the oven and place on a stove burner set at medium-high heat.

Place the steak in the middle of the skillet and cook until a dark crust has formed, about 4 minutes. Using tongs, flip, and cook for an additional 4 minutes.

Place skillet in the oven and cook until the desired doneness is reached, for medium rare a thermometer inserted in thickest part of steak will read 125 degrees, around 10 to 12 minutes. Let rest for 10 minutes at which time the temperature of the steak will continue to rise.

Serve immediately with lemon cream and enjoy.
Need more recipe inspiration? Check out Braveheart Coffee-Rubbed Grilled Ribeye and similar show-stopping recipes here.