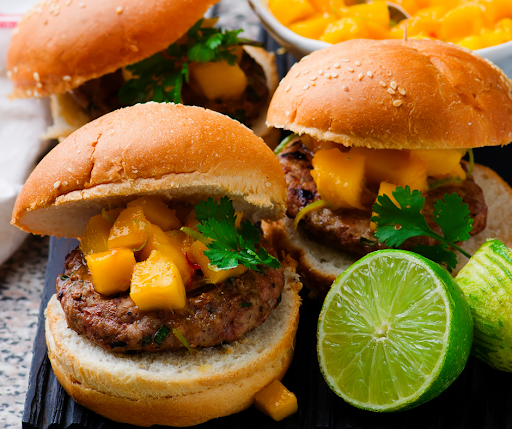 Looking to spice up an American classic? Look no further! This Chili Lime burger with mango salsa is a creative recipe guaranteed to impress everyone at your cookout. Sweet, tangy lime and mango combines with spicy chile and jalapenos to create the perfect summer dish. 
Ingredients
4 hamburger buns

1 tbsp butter, softened

1 tsp chili powder

1 tsp sea salt

1 tsp garlic powder

1.5  tablespoon fresh lime juice

1 large mango, peeled, coarsely chopped (about 1 cup)

1 tablespoon chopped fresh cilantro

1 tablespoon chopped green onion

1 tablespoon finely chopped seeded jalapeño pepper
Directions
Lightly season both sides of the burger patty with chili powder, sea salt, garlic powder, and lime juice.

Place burgers on grill at medium high heat. Cook for 10-15 minutes, flipping burgers halfway through.

While burgers are cooking add the remaining lime juice to a bowl with mango, cilantro, green onions, and jalapeno. Mix until combined and season with salt and pepper to taste.

Once burgers are cooked, remove from the grill. 

Butter both sides of buns and place on the grill. Cook until golden brown and toasted.

Place burgers on buns and top with mango salsa.

Let cool and enjoy!
Interested in more recipe inspiration? Next time, try out Braveheart's stuffed beef tenderloin. This recipe is a simple yet delicious dish that has intense flavor packed in every bite!