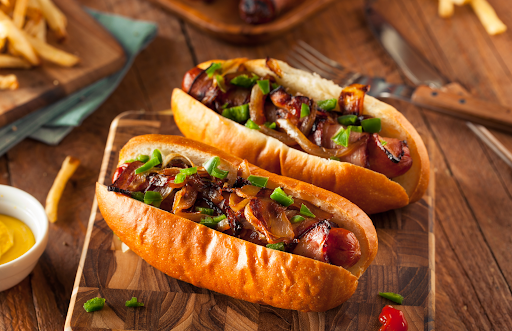 Summer is just around the corner and there is no better way to celebrate than with this dish! A gooey cheese center and a crispy bacon outer layer makes this dish the perfect addition to any summer barbeque. This twist on a classic will make you fall in love at first bite!
Ingredients
4 slices bacon

3/4 cup shredded cheddar cheese

1 large jalapeno, sliced

1 tbsp of butter, softened

4 hot dog buns

4 toothpicks
Directions:
Make a slit down the center of the frank, making sure not to slice all the way through.

Stuff cheese in the pocket you just made. Wrap one piece of bacon around each frank, then secure with a toothpick.

Slice open buns and butter each side generously. Place buns on the grill and cook until toasted.

Heat grill to medium heat. Place wrapped and stuffed franks on the grill and cook for 10-12 minutes or until bacon is cooked through. Turn often making sure the franks do not burn.

Once cooked, remove toothpicks and place franks on the toasted buns. Top with sliced jalapeno and condiments of your choosing.

Let cool and enjoy!
Want to try more recipes like this? Check out our Braveheart Mexican Street Hot Dogs. This recipe is the perfect dish to wow your summer party guests.