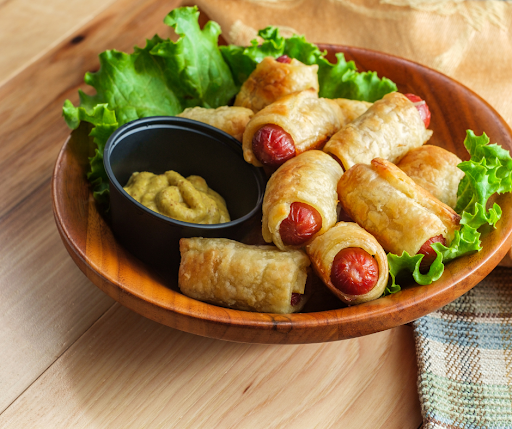 These Bacon & Cheese Pigs In A Blanket are jam-packed with flavor and fun. This is a great hand-held party food and is so addictive! It only requires 4 ingredients, making it the perfect recipe for a beginner at-home chef. You will not regret making this cheesy, crispy, and flavorful dish!
Ingredients
5 Braveheart Ridgecrest Franks

8 slices of bacon, cut in half

4 cheese slices of choice, cut into 4 squares.

1 sheet puff pastry (thawed and rolled according to packaged instructions)
Directions.
Preheat the oven to 400 degrees and line a baking sheet with aluminum foil. Grease the pan and set aside.

Cut Ridgecrest Franks into thirds, cheese slices into fourths, and sliced bacon in half.

Cook bacon in a pan until soft (do not let bacon become crispy).

Slice a slit down the center of each piece of frank. Place cheese in the slit and wrap with a piece of bacon.

Cut the puff pastry into thin slices and wrap each stuffed frank with pastry.

Place wrapped franks on the baking sheet and place in the oven.

Cook for 25-30 minutes or until pastry is cooked through (refer to package instructions)

Remove from the pan and let cool.

Serve with condiments of your choice and enjoy!
Looking for similar recipes? Try out Braveheart Cheesy Bacon Wrapped Hot Dogs. This dish has similar ingredients but a unique flavor that is sure to WOW.