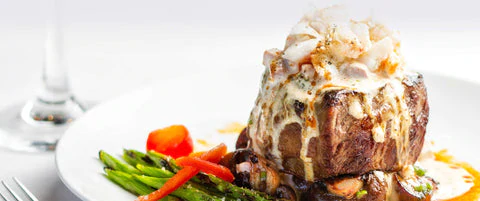 Enjoy the combination of rich flavors from the parmesan cheese, hollandaise sauce, and mouthwatering crabmeat all on top of our mouthwatering Braveheart steaks.
Ingredients
1/4 tsp Magellan® sea salt
1/4 tsp Magellan® Black Pepper, ground
4 ea Heritage Ovens® Bread, French, cut 1 in thick
1 tbsp Roma® Oil, Olive
1/2 tsp Roma Garlic, minced
1 tbsp Roma® Cheese, Parmesan
1 cup Custom Culinary® hollandaise sauce, prepared
1/2 cup Empire's Treasure® Jumbo Lump crabmeat
1/4 cup Piancone® Chablis cooking wine
1 tbsp Peak Fresh Produce® Tarragon, chopped
1 tbsp shallot(s), small dice
1 tsp Roma® Oil, Olive
1 tbsp Peak Fresh Produce® Onion(s), Green, finely chopped
Directions
Drizzle olive oil on sliced French bread then top with garlic and Parmesan cheese. Bake in 375-degree oven to toast then reserve.
Season tournedos with salt and pepper then grill or broil to desired degree of doneness.
Heat olive oil in pan and add shallots and tarragon. Cook for 1-2 minutes. Deglaze with wine and reduce by half. Whisk the tarragon mixture into prepared hollandaise sauce to make a béarnaise.
Warm crabmeat.
Place toast on plate then top with tournedos followed by béarnaise sauce and crabmeat portion. Finish with sprinkle of green onion.