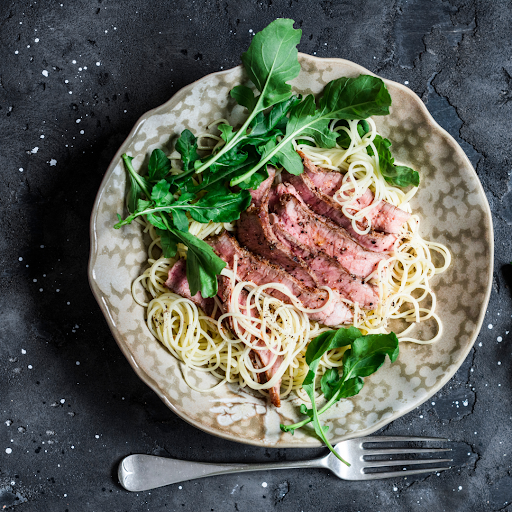 In the mood for a creamy dish packed with protein? This is the recipe for you. Juicy Braveheart Top Sirloin and tender fettuccine mix to create a flavor that you can't beat! This pasta is the perfect weekday meal because it can be whipped up in 30 minutes with less than 10 ingredients.
 Ingredients
Braveheart top sirloin steak, seasoned with salt and pepper

6 ounces fettuccine

1 tablespoon unsalted butter

2 eggs

1 cup grated Parmesan cheese, plus 2 tablespoons for garnish

1 tablespoon chopped basil

1/2 teaspoon kosher salt

Ground black pepper, for serving
Directions:
Using the package instructions, cook pasta until al dente

Melt the butter in a non-stick skillet over medium-high heat. Place the steak in the pan and cook it on one side for 3-4 minutes. Flip and cook for an additional 3-4 minutes. 

Remove the steak from the pan and let it rest on a cutting board for a couple of minutes. Thinly slice the steak against the grain.

In a large bowl, beat the eggs and add cheese, basil, and salt. Stir until combined. 

When the pasta is ready, drain it and place it in the bowl with the egg mixture. Toss the pasta with the egg mixture until pasta is evenly coated in the sauce (the heat from the pasta will cook the eggs). 

Add steak and toss.

Divide the pasta into even portions and top each serving with 1 tablespoon of grated Parmesan and a few pinches of ground black pepper.

Let cool and serve.
Enjoy this recipe? Consider trying Braveheart Ground Beef Stroganoff. This recipe is another twist on a classic pasta dish. Using Braveheart ground beef, flavorful mushrooms, and rich cream, this dish is sure to leave you wanting more!