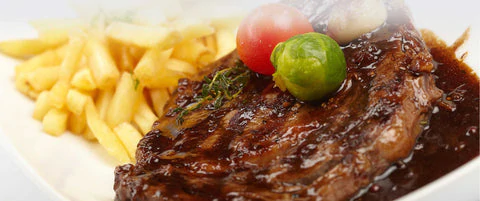 Take our Braveheart Ribeyes to the next level with this homemade Hunter's Sauce. Pair this recipe with your go-to side, and you will be sure to impress your guests.
Ingredients
2 tbsp Roma® Oil, Olive
1 tbsp Magellan® Black Pepper, ground
2 tsp Magellan® sea salt
12 oz Hunter's Sauce, (see recipe below)
Directions
Rub both sides of ribeye with olive oil and flavor with ground pepper on both sides.
Allow ribeye to rest for 2-3 minutes at room temperature before cooking.
Cook ribeye until desired degree of internal doneness under broiler or on grill.
Remove from cooking and let rest for 1-2 minutes. Season with salt then serve with 3 oz of Hunter's sauce on top or on the side.
Hunter's Sauce
Ingredients
1/2 cup Peak Fresh Produce® cremini mushrooms
3 oz Piancone® red cooking wine
1 tbsp Roma Garlic, minced
2 cups veal, demi-glaze
1 tsp Roma® Oil, Olive
1/8 tsp Magellan® sea salt
1/8 tsp Magellan® Black Pepper, ground
1 tbsp Peak Fresh Produce® Basil, chopped
1 tsp Peak Fresh Produce® Rosemary, Fresh, chopped
Directions
Heat olive oil over medium high heat in sauté pan then add garlic, salt, pepper, and mushrooms. Cook for 1-2 minutes.
Pour in wine and reduce by half. Now add demi-glaze and simmer for 6-7 minutes.
Stir in fresh herbs then serve.