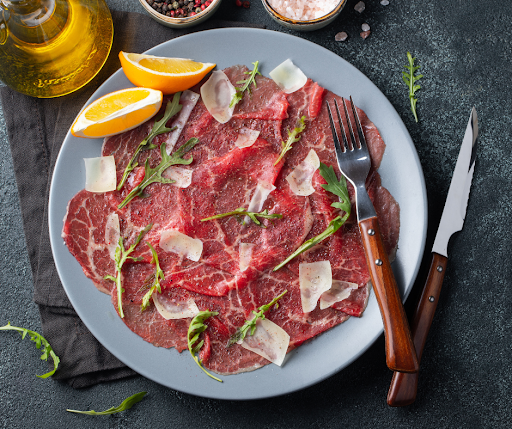 This dish is so easy and includes only 5 ingredients. Beef carpaccio is a perfect midday snack or appetizer to spice up your meal. Experience unique flavor from quality Braveheart beef, smooth olive oil, and flaky salt. You'll be hard pressed to find a tastier (and easier) dish than this one.
Ingredients
Directions
Trim all the fat from the filet and place the tenderloin filet in the freezer for 2 hours or until firm. 

Once firm, thinly slice the steak and pound flat with a meat pounder (you want the beef to be as thin as possible).

Arrange thin beef on a large plate and drizzle with olive oil. 

Top with a sprinkle of flaky salt, parmesan cheese, and a few arugula leaves.

Serve and enjoy!
Looking for more fun recipes? Try Braveheart Steak Tartare.