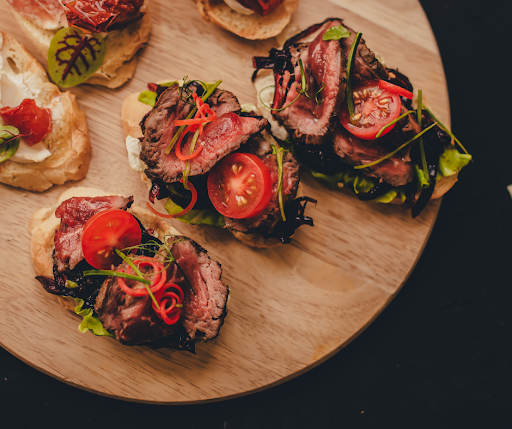 This dish makes for the perfect snack or serve with sides to create a delicious meal. This is a light yet filling recipe that is a perfect addition to your day. The crispy bread paired with juicy, tangy balsamic steak will leave you feeling satisfied. This is a classic Italian dish that is guaranteed to impress. 
Ingredients
1 Braveheart Sirloin Filet Steak

1 baguette 

2 fresh tomatoes, diced

4 fresh basil leaves, finely chopped

2 tbsp olive oil

2 garlic cloves, minced

¼ cup balsamic vinegar

½ cup olive oil

1 tsp rosemary leaves, chopped

1 tsp oregano, chopped

Salt and pepper to taste

½ cup arugula leaves

1 ball of fresh mozzarella
Directions
To a small bowl, add ¼ cup of olive oil, rosemary, oregano, garlic, balsamic vinegar, salt, and pepper. 

Mix ingredients well and add steak. Cover with plastic wrap and let marinade 
in the fridge for 1-6 hours. 
Add steak to a grill on medium high heat and cook until desired doneness (medium rare is recommended). Let rest and then thinly slice.
To a medium bowl, add tomato, basil, olive oil, salt, and pepper. Mix the ingredients together and set aside.

Slice the baguette in half and coat the inside with olive oil or butter. 

Toast in a large pan or oven until the bread is golden brown.

Remove from the pan or oven and slice baguette halves to create 6 slices of bread.

Thinly slice mozzarella cheese and place on the toast.

Add the tomato mixture and then arugula. Top with steak and a drizzle of olive oil and balsamic glaze (optional).

Serve and enjoy!


Looking for more recipe inspiration? Try Braveheart Steak and Caramelized Onion Grilled Cheese.