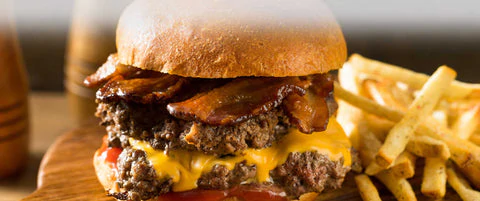 Life is too short to miss out on a juicy, delicious Braveheart burger. Add your favorite toppings and you will experience a quality, classic meal.
Ingredients
1/4 tsp Magellan® sea salt
1/4 tsp Magellan® Black Pepper, ground
4 ea Heritage Ovens® Bun(s), Brioche, toasted
8 ea Ridgecrest® Bacon, cooked crispy
4 tbsp West Creek Moonshine BBQ sauce
4 ea West Creek® cheese cheddar
Directions
Flavor burgers with pepper. Cook on grill turning once to desired degree of doneness.
Season burgers with salt then melt cheese on top.
Add BBQ sauce to bottom of each bun. Top with burger then bacon. Now have a taste.