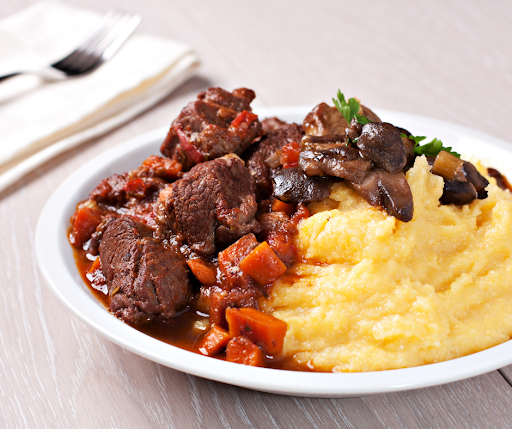 This dish is the perfect choice for a night in. The flavors of rich, juicy roast mixed with creamy polenta make for the perfect comfort food. One bite of this dish and you will feel a whole new level of satisfaction and comfort.
Ingredients
2 tablespoon olive Oil

2 teaspoons salt

1 teaspoon pepper

5 garlic cloves

1 diced onion 

1 diced carrot

28oz can san marzano tomatoes, pureed

¼ cup tomato paste

½ cup beef broth

8 fresh basil leaves, chopped

1 teaspoon red chili flakes
Polenta:
8 tablespoons butter

1 small onion, minced

1 teaspoon salt

2 cups milk of choice

4 cups water (or broth of choice)

1 ½ cups polenta

1 cup parmesan cheese
Directions



In a large skillet over medium-high heat, add oil and gently place roast. Oil is likely to splatter sobe cautious. Sear roast on both sides for  2-3 minutes.  

Place the beef roast into the slow cooker. Season with salt and pepper.

Add garlic, onion, carrots, tomatoes, tomato paste, beef broth, basil, and red chili flakes. 

Cook on low for 8 hours.

Shred meat with two forks. Taste for seasoning and add more salt as needed. 

While meat is cooking, cook polenta 30 minutes before ready to serve. Toss with shredded beef Ragu. Serve and top with freshly grated parmesan cheese and fresh basil.
Parmesan Polenta:
In a saucepan over medium heat, melt 4 tablespoons of butter. Add the onion and cook until softened, about 5 minutes.

Increase heat to medium-high and add the milk, water, and salt. Bring to a boil.

Slowly pour the polenta into the pot, whisking constantly. Cook, whisking constantly, for about 2 minutes. Reduce heat to LOW and cover the pan.

Simmer, stirring every 5-10 minutes, for about 30 minutes. Watch carefully so the polenta doesn't burn. Taste to check if it is creamy.

Remove from heat and stir in the remaining 4 Tablespoons of butter.

Add a small amount of cheese at a time and keep stirring. If polenta becomes too thick, add more milk. Add more salt, if needed.

Serve roast over polenta and enjoy.
Enjoyed this recipe? Next time, try out Braveheart Porterhouse Steak with Creamy Leek Sauce. This recipe perfectly mixes tangy leek with juicy beef.