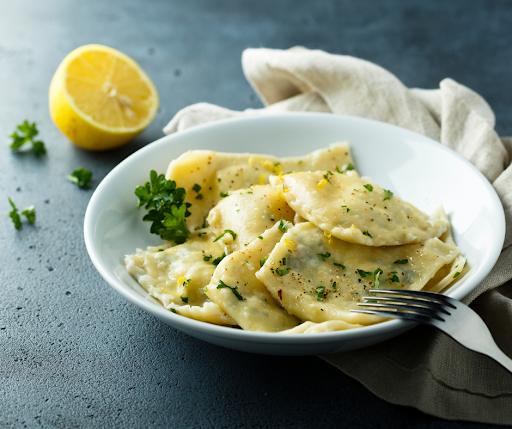 Want to feel like a seasoned professional chef? This recipe is the perfect dish to try. This homemade beef ravioli is so satisfying and will make you feel so accomplished. It's made with hand rolled pasta and quality Braveheart beef to create the tastiest of flavors. This dish is sure to become your new favorite recipe.
Ingredients
1lb Braveheart Black Angus Beef

2 cups all purpose flour

3 eggs

2 egg yolks

Salt

1 cup ricotta cheese

⅓ cup parmesan cheese, grated

1 tbsp garlic powder

½ tbsp parsley

¼ cup salted butter

4 garlic cloves, minced

1 cup heavy cream

2 shallots, diced

2 tsp red pepper flakes

Juice of half a lemon

½ cup powdered parmesan cheese
Directions
Add flour in a mound shape to a large cutting board. Using a bowl, flatten the center of the mound . Add eggs to the center along with a pinch of salt. 

Using a fork, gently begin to whisk the eggs to create a dough while incorporating flour into the edges (Make sure to avoid letting the egg spill out of the sides). 

Once the dough begins to form, knead the dough until there are no lumps and it is one large ball. 

Wrap in plastic wrap and set in the fridge for 20 minutes.

Meanwhile, add ground beef to a pan on medium-high heat and cook until meat is thoroughly browned. 

Remove from the pan and let cool.

In a medium bowl, add ricotta, parmesan, garlic powder, parsley, salt and pepper and mix well. 

Add the cooked ground beef to the mixture and stir until well combined.

Remove dough from the fridge and add to a floured work surface. 

Roll dough until it is as thin as possible (can also use a pasta roller). 

Once dough is thinly rolled, use a ravioli cutter or knife to score square shapes onto half of the dough. 

Add 1-2 tbsp of filling to the center of the square and fold the dough over to cover.

 Use your knife or ravioli cutter to cut out the ravioli and remove excess dough. 

Using a fork score the edges of the ravioli squares to ensure it is sealed.

Add ravioli to a large pot of boiling water and let cook for 4-5 minutes or until the ravioli floats to the top.

Meanwhile, add shallots, minced garlic, red pepper flakes, salt, pepper, and butter to a pan. 

Cook until shallots are translucent and garlic is fragrant and then add heavy cream and lemon juice. 

Let simmer until the sauce begins to thicken, add powdered parmesan, and mix well. 

Add ravioli to the sauce and mix until pasta is fully coated.

Let cool and enjoy!

Need more recipe inspiration? Try Braveheart Beef and Ricotta Lasagna.