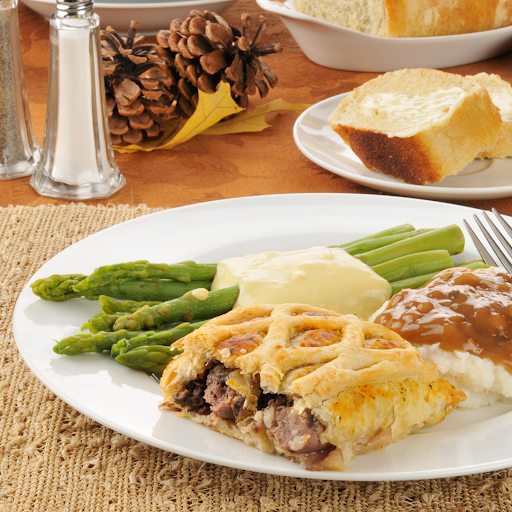 This Ground Beef Wellington is bursting with flavor at every bite. Tangy onion and mushrooms, juicy black angus beef, and buttery flaky puff pastry marry to create a taste that cannot be beaten.This melt-in-your-mouth dish will leave you feeling like a professional chef.
Ingredients
1.5 pounds of Braveheart Black Angus Beef burger meat

2 eggs, beaten

4 Tbsp bread crumbs

2 Tbsp parsley

1 tsp salt

1 Tbsp heavy cream

3 Tbsp butter

1 small onion, minced

4 cloves garlic, minced

8 oz mushrooms of choice

½ cup red wine

1 tsp basil 

mozzarella cheese (optional)

2 sheets puff pastry, thawed

salt and pepper
Directions
Heat oven to 400 degrees.

Mix ground beef with eggs, breadcrumbs, parsley, salt, and heavy cream. Set aside.

In a large saucepan, melt butter. Once melted, add minced onion and mushrooms.

Cook on medium high heat until mushrooms sweat and onions are translucent.

Reduce heat to medium and add garlic, red wine, and basil.

Increase to high heat and continue to cook until the liquid is reduced. Remove from heat. Cool.

On a floured surface, lay out the pastry sheets and cut 4 squares from each sheet.

Spread mushroom mixture across each square and top with a thin layer of mozzarella.

Put ½ cup of meat mixture on top.

Carefully pull corners up over meat and pinch edges together.

Put the bundles on a greased baking sheet, seam side down. Cut small slits on top and brush the tops with cream or beaten egg.

Bake for 30-40 minutes (at 400 degrees) or until golden brown and meat is cooked through.

Let cool and enjoy.
Looking for more recipe inspiration? Try our Roast Beef Tenderloin with Wine Sauce and other recipes here.