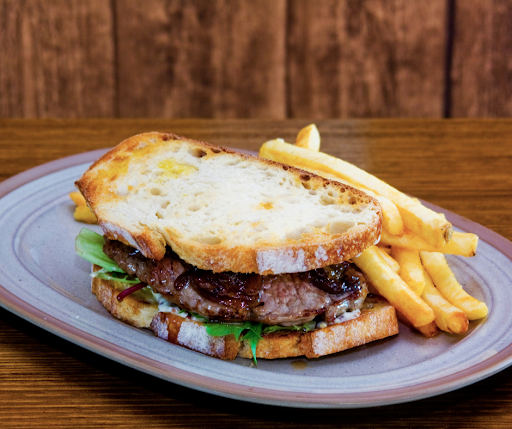 This dish is one that will surprise you. The flavors of brie, fig jam, and steak pair so well together, although they are unexpected. You have to experience the flavor of tender new york strip, sweet fig jam, and creamy brie cheese sandwiched between crispy sourdough bread. Be prepared for this sandwich to knock your socks off.
Ingredients
2 Braveheart New York Strip Steaks

1 wheel brie cheese, softened

2 tbsp fig jam

1 cup arugula

1 onion, sliced

4 slices sourdough bread

2 tbsp dijon mustard

Olive oil

4 tbsp salted butter, softened

Salt and pepper to taste
Directions
Remove steak from fridge and lightly season with salt and pepper. Let rest until room temperature.

Heat a substantial amount of olive oil in a skillet over medium heat. 

Add onions to heated olive oil and let cook until onions are translucent (5-8 minutes). 

Add salt and pepper to onions and continue to let cook until onions are brown and caramelized. Stir in dijon mustard and add to a bowl.

Heat more olive oil and add the steak. 

Cook steak until browned and it is the desired doneness. Remove from pan and let rest before thinly slicing.

Spread a thin layer of butter on all sides of bread and toast in the skillet until golden brown and crispy. 

Add a thin layer of fig jam to bread and top with steak, sliced brie, onions, and arugula. Top with bread slices, serve, and enjoy!
Looking for more recipe inspiration? Try Braveheart Ramen Burger with Spicy Miso Sauce.