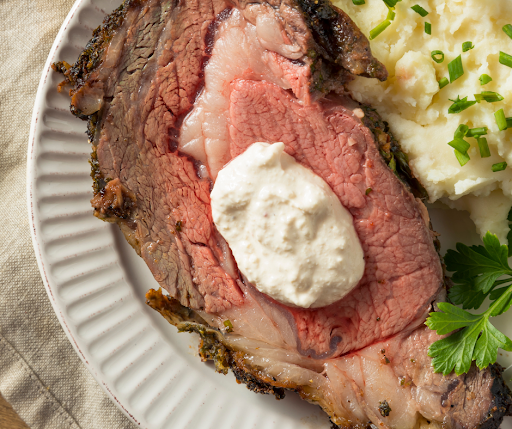 Nothing feels fancier than a juicy prime rib meal. This recipe is the perfect date night meal and pairs well with almost anything. Creamy dill sauce and buttery, succulent prime rib create the most impeccable of flavors. The time and effort is definitely worth it for this one!
Ingredients
1 Braveheart Beef Prime Rib Roast Bone In

1 onion, quartered

1 garlic bulb, halved

5 sprigs thyme

3 sprigs rosemary

½ cup butter, softened

1 tbsp garlic, minced

2 tbsp chives, finely chopped

1 tbsp lemon juice

¼ cup mayonnaise

¾ cups sour cream

¼ cup dill

salt and pepper to taste
Directions
Take beef out of the fridge 2 – 3 hours before cooking to bring to room temp and pat dry with a paper towel.

Preheat the oven to 460°F 

Mix softened butter, garlic, and chives together. Set aside

Place onion, garlic and herbs in an ovenproof skillet or roasting pan.

Spread a thin layer of butter on the underside of the beef. Place beef in the pan on top of onion and garlic, butter side down. Spread about 2/3 of the butter on the top and sides.

Roast in the oven for 20 minutes

Remove from oven, spread remaining butter and decrease oven heat to 250F.

Roast for 1 1/2 hours, basting every 30 minutes with the juices in the pan, until the internal temperature is 122°F in the center 

While the prime rib is cooking, combine mayonnaise, sour cream, dill, lemon juice, and salt and pepper in a small bowl. Mix well and place in fridge until ready to serve.

Transfer beef to plate. Cover loosely with foil and rest for 20 – 30 minutes. 

Slice beef and serve with dill cream sauce! 
Enjoy this recipe? Try out Braveheart Beef Roast with Parmesan Polenta