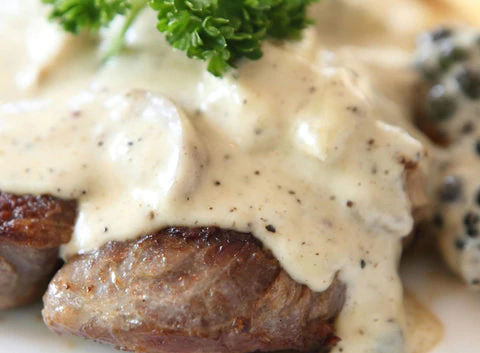 For the ultimate blend of rich flavors and textures, try this recipe. Premium Braveheart Black Angus Beef Tenderloin Medallions are topped with a rich cream sauce featuring crunchy nuts and fresh herbs, then served over perfectly cooked pasta.
Ingredients
1 8 oz. Braveheart® Black Angus Beef Tenderloin, Medallions
1/2 Cup(s) cheese crumbles, gorgonzola
3 garlic, clove(s), minced
3 Tbsp(s). Nature's Best Dairy® Butter, Unsalted, divide into 2 T. and 1 T.
3/4 Cup(s) Nature's Best Dairy® Cream, Heavy
1/2 Cup(s) Peak Fresh Produce® Basil, chopped
1 Cup(s) Piancone® Pasta, Penne, uncooked
salt and pepper, to taste
1 tsp(s). thyme, fresh, chopped
3/4 Cup(s) walnuts, pieces
Directions
In a large saucepan, melt 2 tablespoons of butter and quickly sear filet medallions to desired temperature.
Immediately remove from heat and reserve for service.
In the same pan that the beef was seared in, melt the remaining butter and begin to sauté the walnuts.
Add the garlic and thyme and sauté until fragrant, approximately 1 to 2 minutes. Be careful not to scorch!
Add the cream and cheese to the pan and allow the sauce to reduce until nappe (coats a spoon).
Season sauce with salt and pepper to taste and reserve warm for service.
Boil pasta until al dente and drain.
Combine sauce and pasta in a stainless steel mixing bowl making sure to incorporate thoroughly.
Place in a large serving bowl and lay the beef medallions on top of the pasta dish.
Garnish with the fresh thyme and basil.