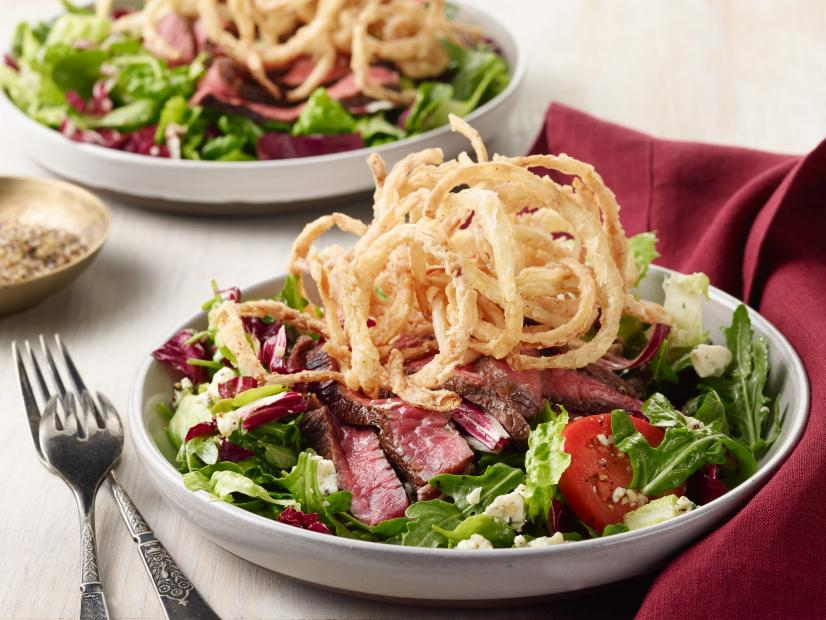 With summer just around the corner, cool off with a refreshing salad that will leave you speechless. Using Braveheart's top of the line Ribeye steaks the meat adds a full, rich flavor, and a tender bite while the salad compliments it with its tangy marinade and crispy onion strings you'll hardly believe it's not from a restaurant! Expand your taste buds with Braveheart's steak salad recipes crunch, tenderness, and revitalizing flavor! 
Ingredients:
Dressing/Marinade:
3/4 cups canola oil

3 tablespoons red wine vinegar 

1 tablespoon balsamic vinegar 

2 tablespoons lime juice 

2 tablespoons plus 1 teaspoon soy sauce 

1 tablespoon Worcestershire sauce 

1/2 teaspoon hot chili oil 

2 tablespoons sugar 

1 tablespoon minced fresh ginger 

3 cloves garlic, peeled and minced or chopped 

1 teaspoon kosher salt 

Lots of freshly ground black pepper 

2 whole 1-inch

Braveheart ribeye steaks

, extra fat trimmed 
Onion Strings:
2 whole onions

2 cups buttermilk 

2 cups all-purpose flour 

1 tablespoon kosher salt 

1/2 teaspoon cayenne pepper 

Freshly ground black pepper

4 cups canola oil 
Salad:
Lettuce mix: romaine, arugula, watercress, radicchio, etc.

3/4 cups crumbled blue cheese 

4 roma tomatoes, sliced
Instructions: 
For the dressing/marinade: Combine the oil, both vinegars, lime juice, soy, Worcestershire, chili oil, sugar, ginger, garlic, salt and pepper in a mason jar with the lid. Shake vigorously to combine; taste and adjust seasonings to taste.

Place the steak in a plastic zipper bag. Pour in half the dressing/marinade and seal. Marinade for 5 to 10 minutes.

For the onion strings: Slice the onions very thin. Place in a baking dish and cover with the buttermilk and soak. Combine the flour, salt, cayenne and black pepper and set aside.

Heat the oil to 375 degrees in a large pot. Grab a handful of onions, throw into the flour mixture, tap to shake off excess and plunge into the hot oil. Fry for a few minutes and remove to a paper-towel-lined plate as soon as they are golden brown. Repeat until onions are gone.

Grill (or saute) the steak over medium-high heat until medium-rare, about 2 minutes on each side. Remove from the heat and allow to rest. Slice the steak against the grain in thin slices.

For the salad: In a large bowl, add the lettuce mix, blue cheese and tomatoes. Add a little of the remaining dressing/marinade and toss to combine. Add more if needed.

Heap the salad on a plate, making sure to get plenty of blue cheese and tomatoes on each plate. Add half a steak to the top of each plate, then top the steak with onion strings.
If you enjoy Braveheart's ribeye steaks try our Beef Ribeye Cap Po' Boy recipe! This recipe will not only wow guests but also leave you wanting more- zesty, juicy, and tender, you cannot go wrong!