Steak Burrito Recipe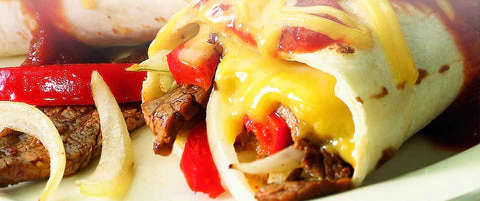 This recipe elevates a favorite.
Use our favorite chipotle fajita marinade with peppers and onions. You will want to save this sauce for fresh meals when you order steak online.
Ingredients
12 oz Alpine Lace® 25% Reduced Sodium American Cheese
4 lbs Braveheart® Black Angus Beef Steak, flank, sliced 1/4"
as needed enchilada sauce, warmed
3 lb Peak Fresh Produce® Pepper(s), Green Bell, sliced, red and/or green
2 lb Peak Fresh Produce® Onion(s), sliced
12 Contigo® Tortilla(s), Flour, 12", warmed
Directions
For each serving, place 5 ounces marinated beef in skillet. Cook until beef starts to brown; add 4 ounces bell pepper and 2 ounces onion. Sauté until beef is thoroughly cooked.
Beef Fajita Marinade
Ingredients
2 tbsp Roma® Chili Powder
2 tbsp Peak Fresh Produce® Garlic, Clove(s), minced
1 1/2 cups lime(s), fresh, juiced
12 oz Peak Fresh Produce® Onion(s), minced
2 tbsp Contigo® Pepper(s), Chipotle in Adobo Sauce, chopped
Directions
Stir together lime juice, onion, chipotle peppers, garlic and chili powder in hotel pan or bowl.
Add steak pieces; cover.  Refrigerate, stirring occasionally, for 6 to 8 hours.