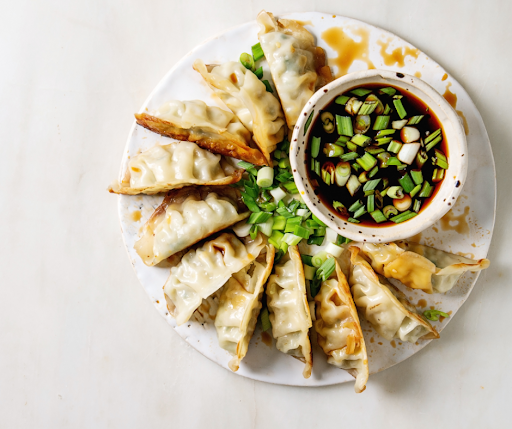 Whip up these tangy, spicy beef dumplings for your next dinner party! This recipe produces hand help dumplings that are packed with flavor and have a soft, yet crispy exterior. This dish is so easy to make and can be created with common pantry ingredients. Try it out to wow your friends and family!
Ingredients
½ cup green onions, finely chopped

1 tablespoon fresh ginger, grated

1 tablespoon rice cooking wine

2 tbsp cooking oil of choice.

2 tablespoons soy sauce

1 teaspoon sesame oil

1 teaspoon white pepper

2 teaspoons sugar

½ tablespoon salt

¼ cup carrots, shredded

1 (50-piece) package round dumpling wrappers 

4 tsp soy sauce

1 tsp chili oil

2 tbsp rice wine vinegar

½ tsp red pepper flakes

1 tbsp green onions, thinly sliced
Directions
In a large bowl, combine ground beef, carrots, ginger, green onions, sesame oil, 2tbsp soy sauce, rice cooking wine, and seasonings. Mix until well combined.

Lay out wonton wrappers and place a small amount of meat in the center of each. Line the edges with water and seal the meat into the wrapper by folding the outer edge. 

Add a ½ inch of oil to a large pan on medium high heat. Add dumplings to the pan and let cook until the bottom is golden brown and then flip. Make sure the filling is well cooked and wonton wrappers are soft.

Once cooked, remove dumplings from the pan and let cool.

While dumplings are cooling, combine remaining soy sauce, green onions, vinegar, chili oil, and red pepper flakes to a small bowl. Whisk ingredients together.

Serve with dumplings and enjoy!
Looking for more recipe inspiration? Try making Braveheart Spinach and Beef Stuffed Shells.