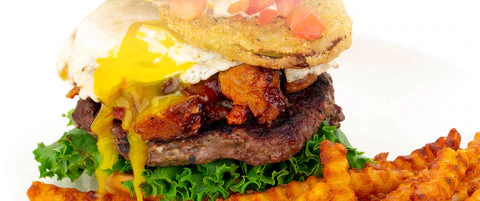 Enjoy our Barnyard Braveheart Burger with all of the fixings or by keeping it simple. Either way, we are sure that you and your family will be making this recipe over and over again for years to come.
Ingredients
1 8 oz Braveheart® Black Angus Beef Patty(ies)
1 Heritage Ovens® Bun(s), potato
1/2 oz West Creek® Cheese Shredded, Cheddar
1 Nature's Best Dairy® Egg(s), fresh shell, fried to order
1 oz Garlic Aioli, homemade
2 slices West Creek Fried Green Tomato
1 leaf Peak Fresh Produce® Lettuce, better burger
2 oz West Creek Pork butt, smoked
1 oz West Creek Sweet BBQ Sauce
Directions
Toast potato bun, season and grill Burger to desired temperature, melt cheese on top of burger, fry egg to desired doneness and top with heated BBQ pork.
Fry the green tomatoes and drain.
Build sandwich on plate, burger, cheese, fried egg, BBQ pork, green tomatoes, lettuce and drizzle with Garlic Aioli.