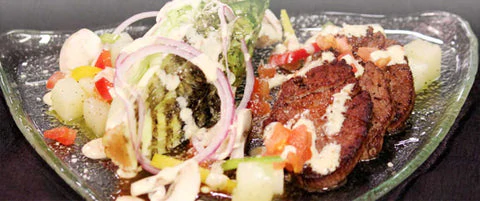 These Beef Medallions develop a deep flavor as they are coated in this simple yet delicious Barcelona Spice Rub. Top this will garlic dressing, and you have one mouthwatering meal on your hands.
Ingredients
1 1/2 oz Braveheart® Black Angus Beef Tenderloin, Medallions, 3 each
1 tbsp Nature's Best Dairy® Butter
1 tbsp Peak Fresh Produce® Pepper(s), Green Bell, julienned
1 Peak Fresh Produce® Mushroom(s), quartered
1 tbsp Piancone® Oil, Olive, Extra Virgin
1 tbsp Assoluti® Oil, Olive Blend
1 tbsp Raffinato® Cheese Grated, Parmesan
80 count Peak Fresh Produce® Potato(es), peeled and cubed
1 tbsp Peak Fresh Produce® Pepper(s), Red Bell, julienned
1 Peak Fresh Produce® Onion(s), Red, sliced to taste
3 tbsp Piancone® Dressing, Roasted Red Pepper and Garlic
salt and pepper, to taste
1 tbsp Peak Fresh Produce® Tomato(es), diced
1 tbsp Peak Fresh Produce® Pepper(s), Yellow, julienned
Directions
Season the beef with 1Tbsp. of Barcelona Spice Rub. Heat a pan with the oil in it. Saute the medallions to desired doneness. Finish by melting the butter in with the beef and spooning it over top.
Place the potatoes in a pot of water and cook until done. Drain the potatoes, toss in olive oil and season with dry Ranch mix.
Place in the cut side of the Romaine in the olive oil and season with salt and pepper. Place on a hot grill for 10 to 15 seconds to mark. Sprinkle with Parmesan cheese.
Arrange the beef, potatoes, lettuce, mushrooms, onions, peppers and tomatoes on a plate. Drizzle with Roasted red Pepper and Garlic dressing.
Barcelona Spice Rub
Ingredients
2 tbsp black pepper, whole
1/4 cup Roma® Cayenne Pepper
2 tbsp Roma® Cumin, Ground
1 cup Burst™ Spices Fennel Seed, Ground
1/4 cup paprika
1/2 cup salt, kosher
Directions
Mix all ingredients together well.