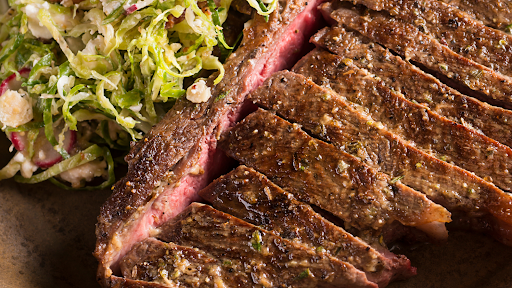 Cool down with this fresh lemon and arugula orzo pasta topped with juicy balsamic steak. The flavors in this dish blend perfectly to create a taste that will leave you wanting more. Try this recipe out for a dinner party, night in, or just for fun!  
Ingredients
Braveheart New York Strip steak

1/4 cup balsamic vinegar

1/4 cup extra virgin olive oil

1 tablespoon Dijon mustard

1 teaspoon honey

1 large clove garlic, minced/grated

1/4 teaspoon salt

1/4 teaspoon pepper
For the salad:
2 teaspoons kosher salt, divided

16 ounces uncooked orzo pasta

1/4 cup lemon juice, preferable freshly squeezed

1/4 cup extra-virgin olive oil, divided, preferably light or extra-light

3 cloves garlic, minced 

1/4 teaspoon ground black pepper

2 heaping cups arugula

4 ounces crumbled parmesan cheese
Directions:
In a large bowl, add balsamic vinegar, olive oil, dijon mustard, honey, garlic, salt, and pepper. Whisk until well combined.

Add steak to mixture and let marinade 4-8 hours.

Remove steak from the marinade and grill over medium-high heat until cooked to the desired level of doneness, about 3-5 minutes per side. Let rest for 5 minutes and then thinly slice

Following the package directions, cook the orzo until al dente. Once cooked, add pasta to a strainer and run cold water over it.

In a small bowl, whisk together the lemon juice, olive oil, garlic, salt, and pepper. Set aside.

Transfer the orzo to a large bowl. Add the arugula, parmesan, and the lemon dressing. Toss to combine. 

Serve the salad topped with steak and enjoy.
Enjoy this recipe? If so, check out our delicious Barcelona Beef Medallions. This is a recipe sure to impress.